Goldpine
RHINO® to the rescue!
---
When he received a panicked call from one of his workers asking him to come down to the orchard straight away, Graeme Hodges didn't know what he was going to find — a full row of apple trees lying on the ground wasn't one of the potential scenarios he had considered whilst rushing to the scene. In all his time in the pipfruit industry, spent on or around orchards, he had never seen a full row collapse to the ground. He is now making changes to ensure it's not something he'll see again.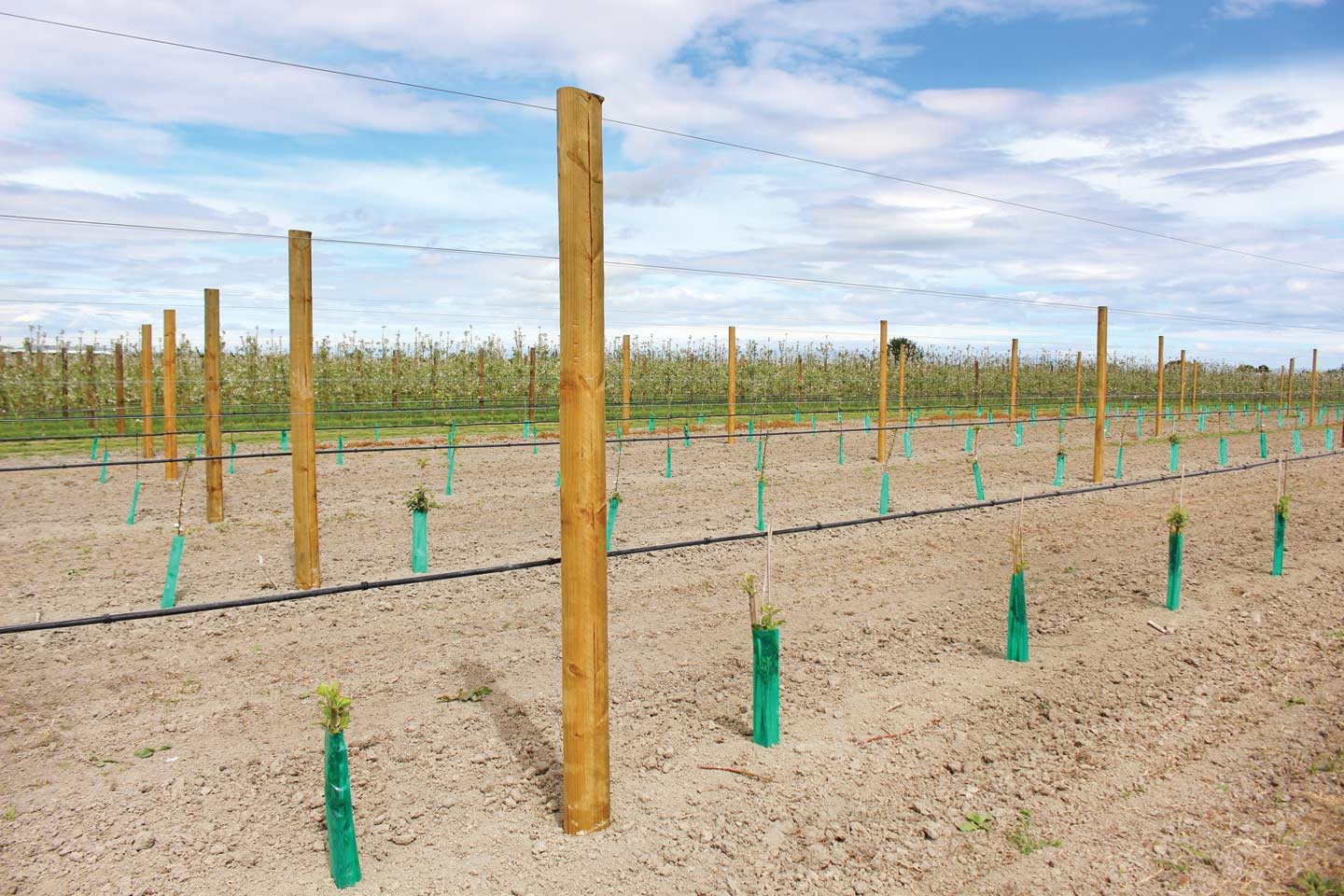 Graeme Hodges manages Rutherglen Orchards, a pipfruit orchard in Havelock North. The orchard consists of 20 planted hectares of pipfruit on very fertile soil, including the infamous 'Havelock Pan' at about 600mm deep. Pacific Series, Jazz and Royal Gala are the apple varieties of choice on the orchard, which has five permanent staff plus 20 seasonal workers in the height of the season. Graeme has been in the industry full time for 13 years and is a fourth generation Hawke's Bay apple grower and has been managing Rutherglen for the last eight years.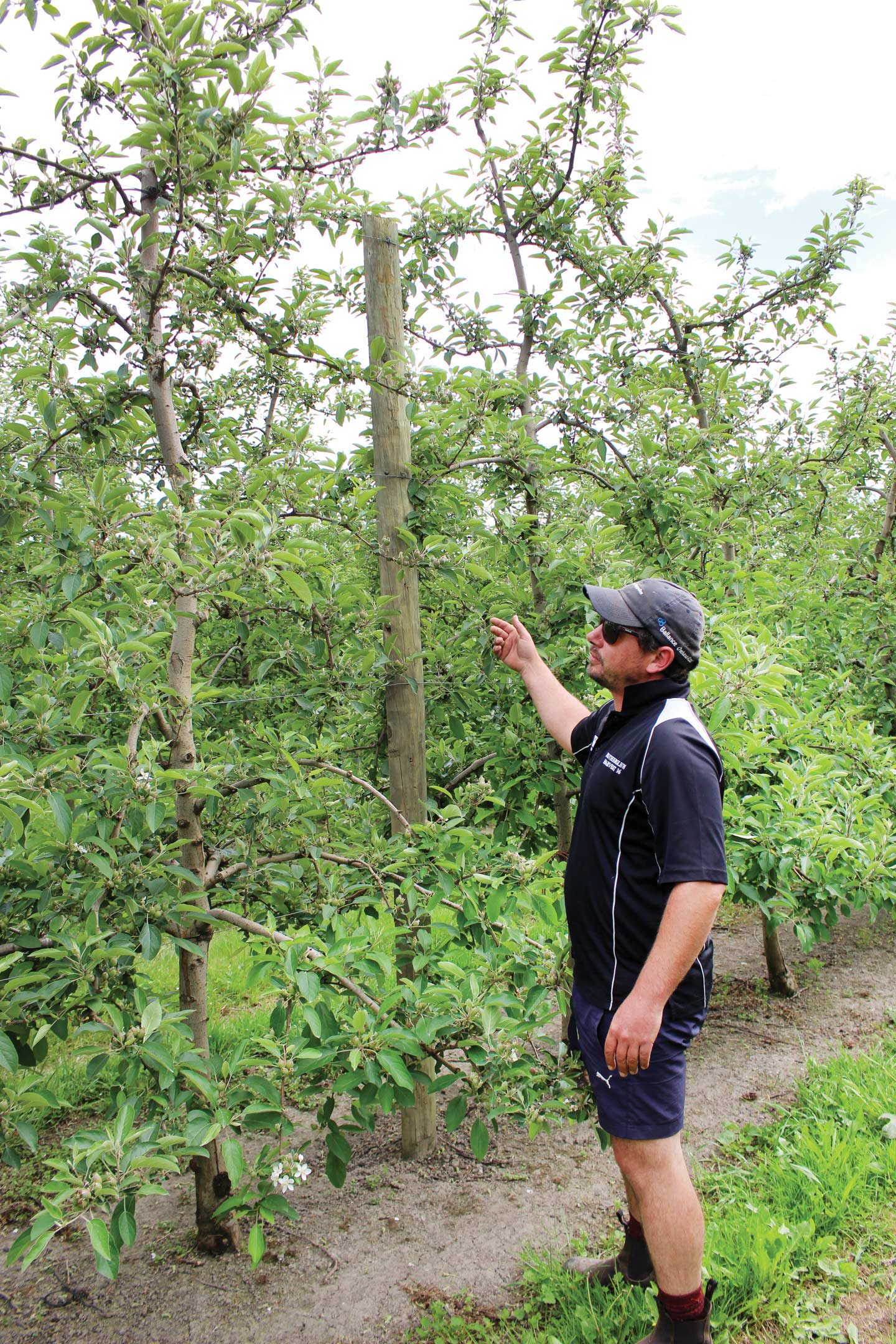 "We look to grow a high volume of quality fruit, making the most of our fertile soils through pruning and a balanced crop load," Graeme explains, "that does mean that each row of trees in the orchard could be carrying a load of around 10 tonnes of fruit."On top of managing the orchard, Graeme is also involved in industry body committees, as well as actively training and passing on his knowledge to others in the sector — he is well qualified in both roles having been the winner of the 'Hawke's Bay Young Fruit Grower of the Year' in 2014. "We are proud to be grower trainers," Graeme says, "we've supported our foreman through a cadetship and our leading hand is currently studying too. We think it is crucial to invest in the upskilling of those in our industry."The damage to the orchard, whilst both devastating and unexpected, provided Graeme and his team a challenge in terms of "how do we fix this?". However, it also provided an opportunity to retrofit a solution that would ensure the integrity of the apple tree rows are protected in the future. "The issue was quite clear," states Graeme, "the posts supporting the row were not strong enough for the heavy load — we needed to replace these posts fast but with a post that would be strong and durable enough to support fully fruit laden trees."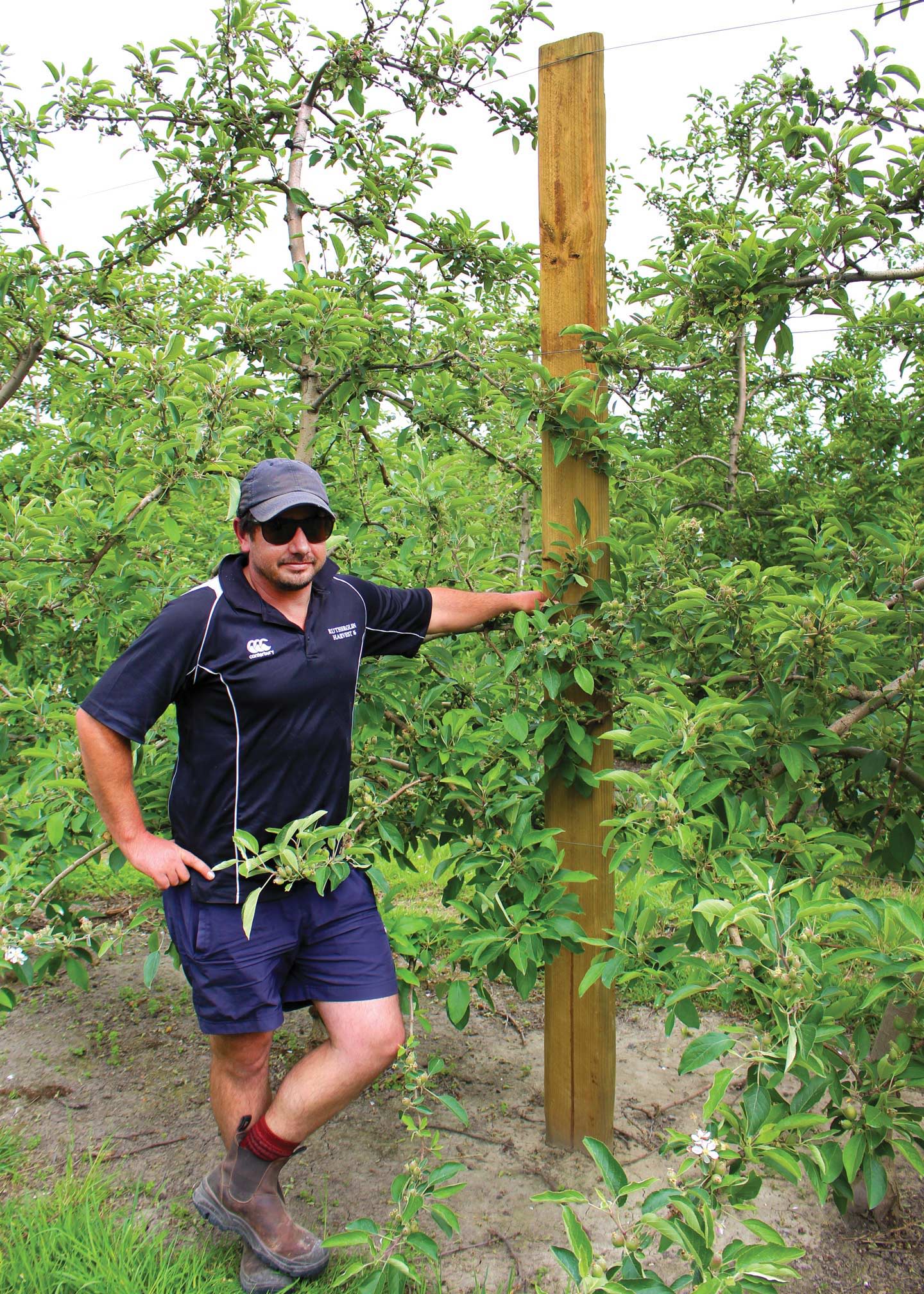 In his search for a solution Graeme spoke to the team at Goldpine Hastings and amongst the options they showed him was the new Rhino™. "I was sceptical at first", Graeme admits, "but once I got my hands on a few and then put some in the ground I was converted." Graeme used a 12 tonne digger with a vibrating head to drive the Rhinos™ and he confirmed that "not one snapped". Also, with the large surface area provided by the flat face of the Rhino™, he hasn't had to add a breast block when retrofitting the posts to help stabilise the existing rows. On the back of the successful retrofit, Graeme made the decision to use the Rhino™ in a new block development as well as reviewing all existing rows and replacing every second or third post with the Rhino&trade.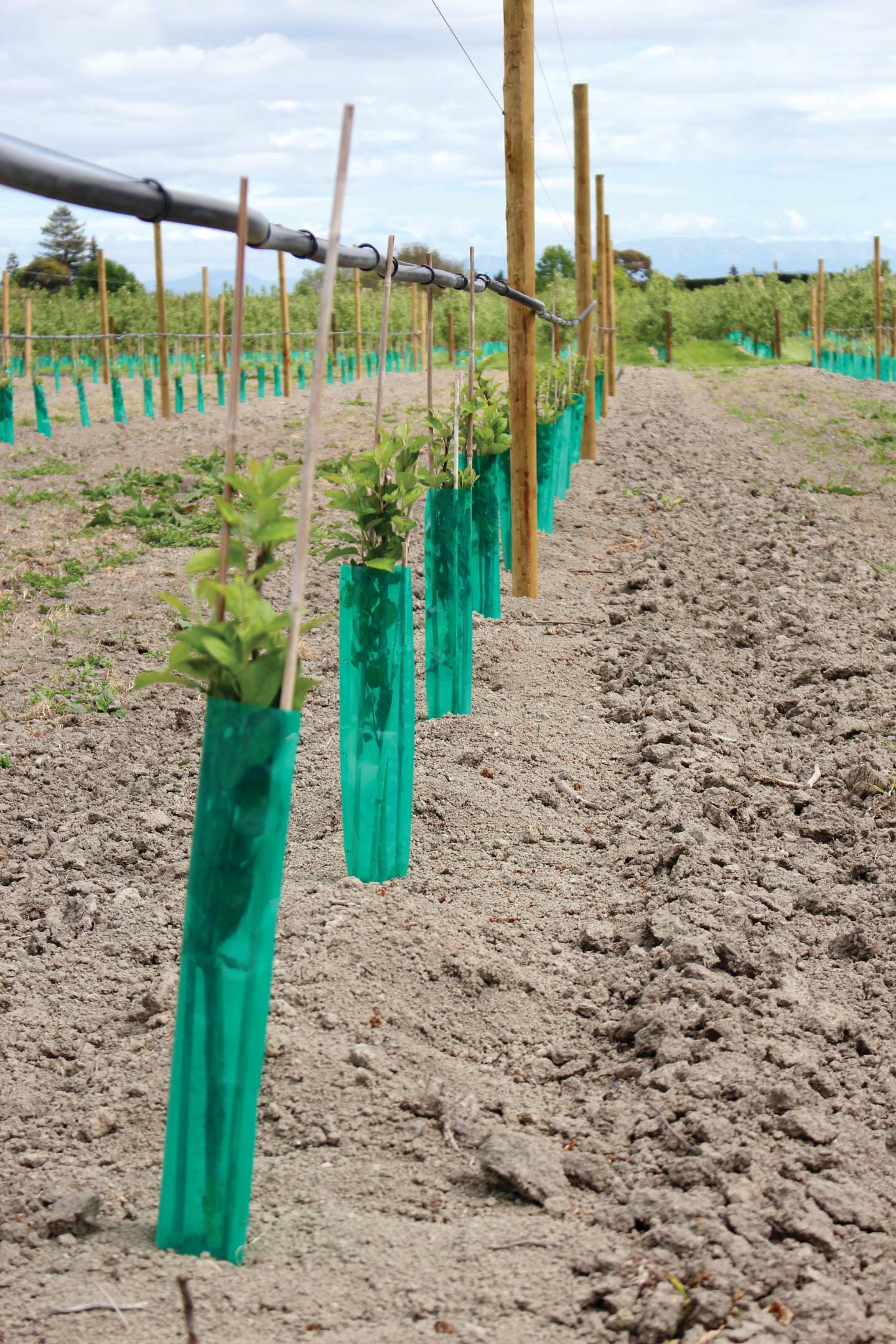 Graeme explains "I have used Rhinos to support a new variety in a block which is exposed to high winds. I have no reason to doubt that the Rhinos will stand the test — they are the strongest and densest orchard post I have encountered in 12 years of intensive horticulture." Having the Rhinos™ supporting his trees will allow Graeme to rest easy and to concentrate on the output of the orchard and other challenges at hand. The last 12 months have seen an increase in demand for apples and therefore prices achieved have been strong. Graeme has been consistently lifting the orchard's production which creates its own challenges in terms of labour shortages to deal with the extra production and lack of water for more apple trees.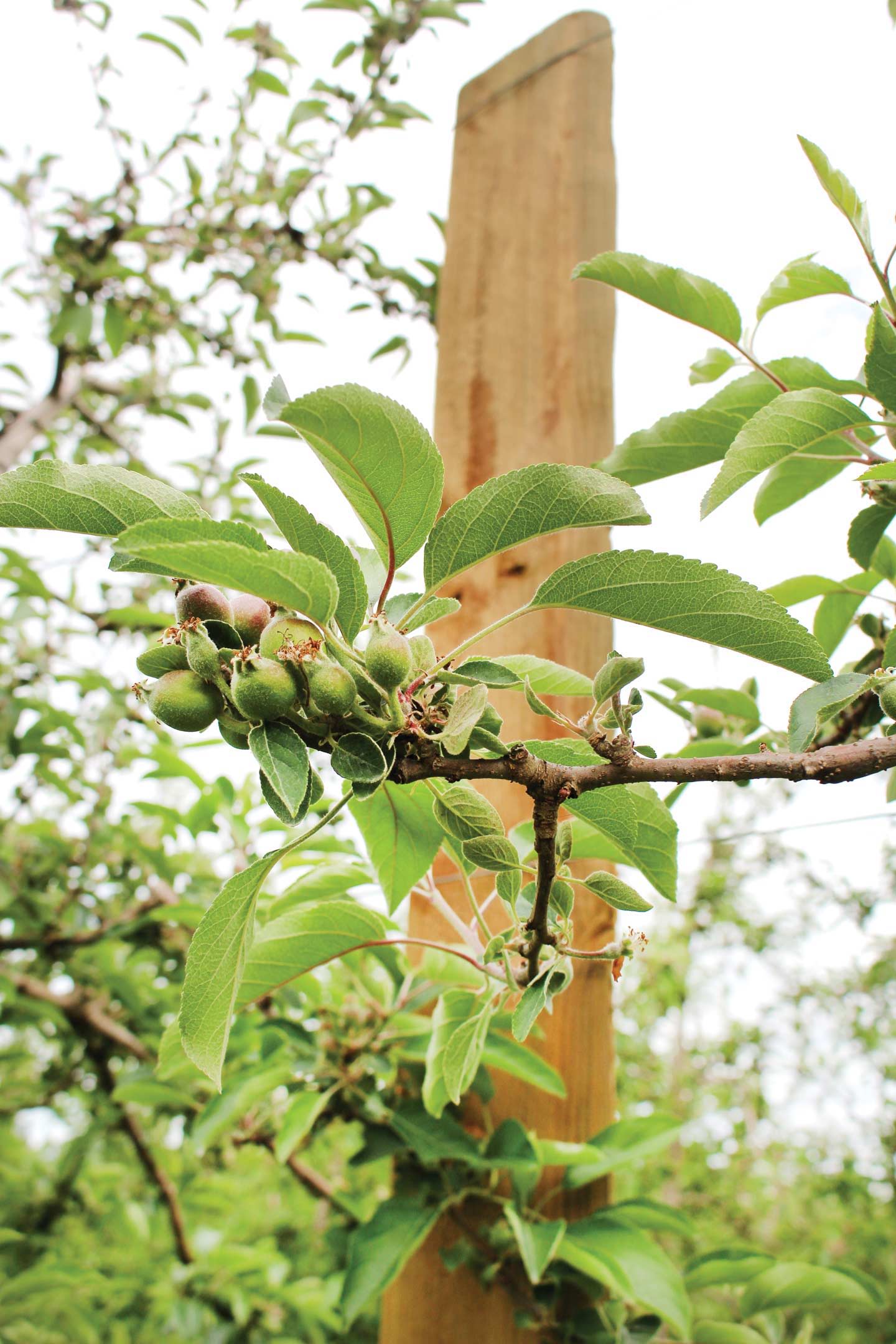 "Horticulture has become very science and technology based in the field" Graeme states, "but the outlook is pretty positive. We're highly concentrated on desirable varieties fit for the Asian market which should lead to continued good returns. This in turn will enable us to re-invest in new varieties and improved infrastructure."This should see Graeme and his team kept pretty busy over years to come and with the worry of tree rows collapsing gone, any spare time Graeme gets could be spent on his other "pastimes", designing and building horticultural implements, playing cricket for his beloved Cornwall Cricket Club or cruising the Hawke's Bay roads in his restored 1983 Holden Kingswood with its 383 Chev small block.
Date posted: 9 January 2017