Goldpine
GOFENCE® Dual Powered Energizers
---
Goldpine
GOFENCE® Dual Powered Energizers
---
GOFENCE<sup>&reg;</sup> Dual Powered Energizers
Exclusive to Goldpine is the GOFENCE<sup>&reg;</sup> Dual Powered Energizer range, available in both 12km and 30km distances. Having a versatile, easy to use energizer that you can rely on for fencing off livestock is essential for safety of animals and longevity of permanent fencing.
The Purpose
Electric fencing came into existence to help keep livestock within boundaries – away from fences, to offer cost effective and temporary solutions, to divide larger parcels of land and for grass management. Not only does it serve the purpose of fencing off areas needing protecting, it also prolongs the lifespan of your permanent posts and wires.
Consideration needs to be given when choosing the appropriate fencing products for your livestock and the reason your needing it. Visibility of the fence, the level of electric power within the fence, the distance of the fence and how likely the animal is to respect the fence are all important factors.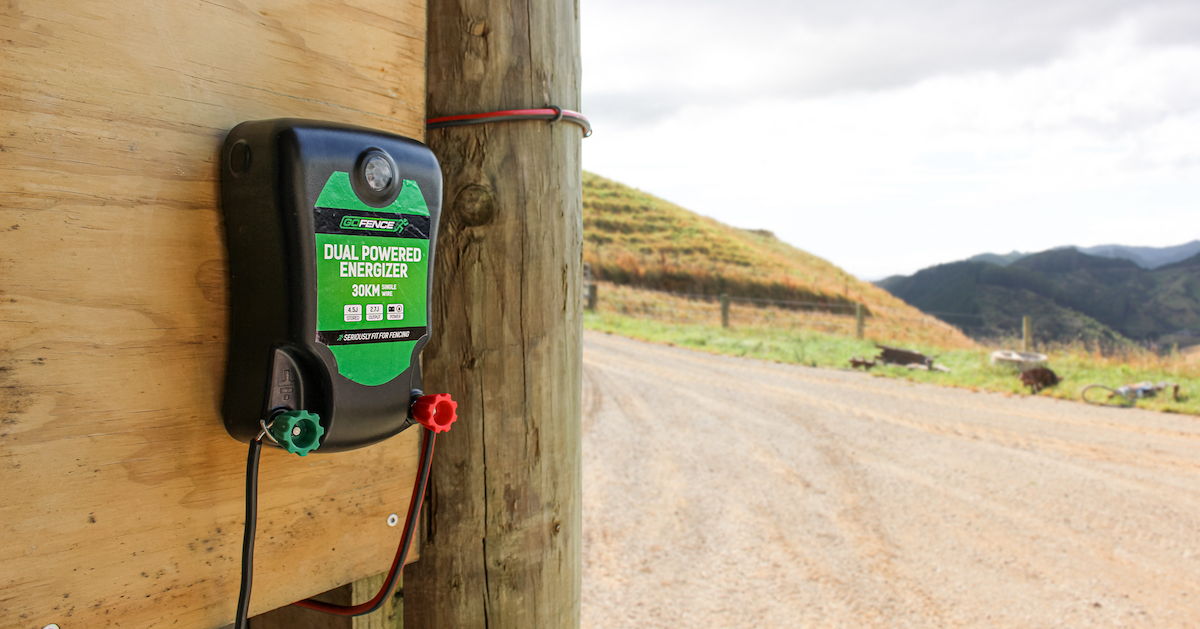 Versatile and compact
Both GOFENCE<sup>&reg;</sup> Dual Powered Energizers in the range have fence leads included, so they are ready to use on your fencing solution when you just add power! Our GOFENCE<sup>&reg;</sup> Energizer range offers great versatility with both mains and battery power options. This means they can be used indoors off the mains supply or if you don't have access to this, they can be used outdoors off a battery application that is well protected.
The versatile power options offer great flexibility for using in different situations. They're compact, easy to set up (with their LED operation indication) and operate with distance ratings that help to select the correct unit. We are so confident in the quality and workmanship in the manufacture of the GOFENCE<sup>&reg;</sup> Energizers that they all come with a 3 year warranty.