Goldpine
Ryan McLaren: Adding Value to New Zealand's Arable Industry
---
'

The Carrfields Group is a family-owned agricultural business that focuses on machinery, technology, irrigation solutions, contracting services, livestock sales and grain and seed production. The business has many facets, but the focus for our visit to Ashburton was to understand, in more depth, the work of their grain and seed division, managed by Ryan McLaren.
Ryan has spent four years as the general manager of Carrfields Grain & Seed, where they produce grass, clover and vegetable seeds for the American, European and Asian markets. They export 95% of what they grow and have been in popular demand due to their high-quality crops, capably grown by world-class New Zealand growers. Ryan puts it down to quality of our growing conditions, specialist advice given by our agronomists, experience of our growers and the farming practices in New Zealand providing reliable counter season production to the Northern Hemisphere for our international customers.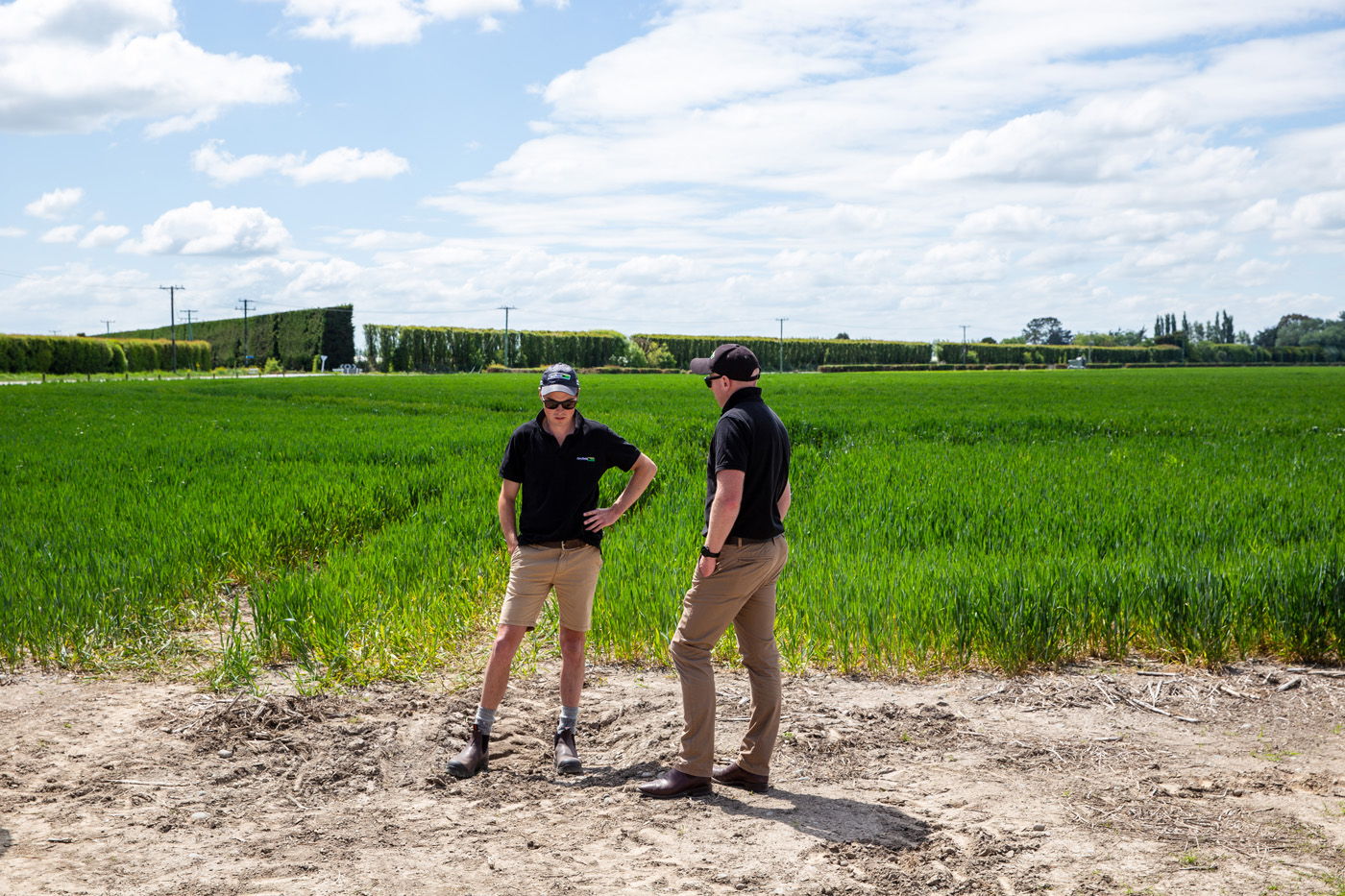 "We also have a domestic flavour to our business, where we have our Cereal Seed Programme – we trade grain, sell food products and produce grain and fibre. More recently, we've embarked on a pastoral strategy where we've employed an additional six agronomists over the last 18 months to expand our footprint in that area, along with broadacre hemp fibre production over the last three to four years," Ryan said.
Formerly known as Canterbury Seed, the Carrfields Group purchased the business in 2009 and later rebranded it to Carrfields Grain & Seed. Carrfields Grain & Seed produce their grasses and clover for the forage market, and their vegetable seeds (beetroot, carrot and garden peas) are predominantly grown for their sister company, Winseed, for their North African, Indian and Pakistani markets. Winseed is a global vegetable seed business that aims to address the rising demand for healthy and nutritious food. They focus on plant breeding, research, product development, and marketing to bring quality seeds to customers in over 50 countries.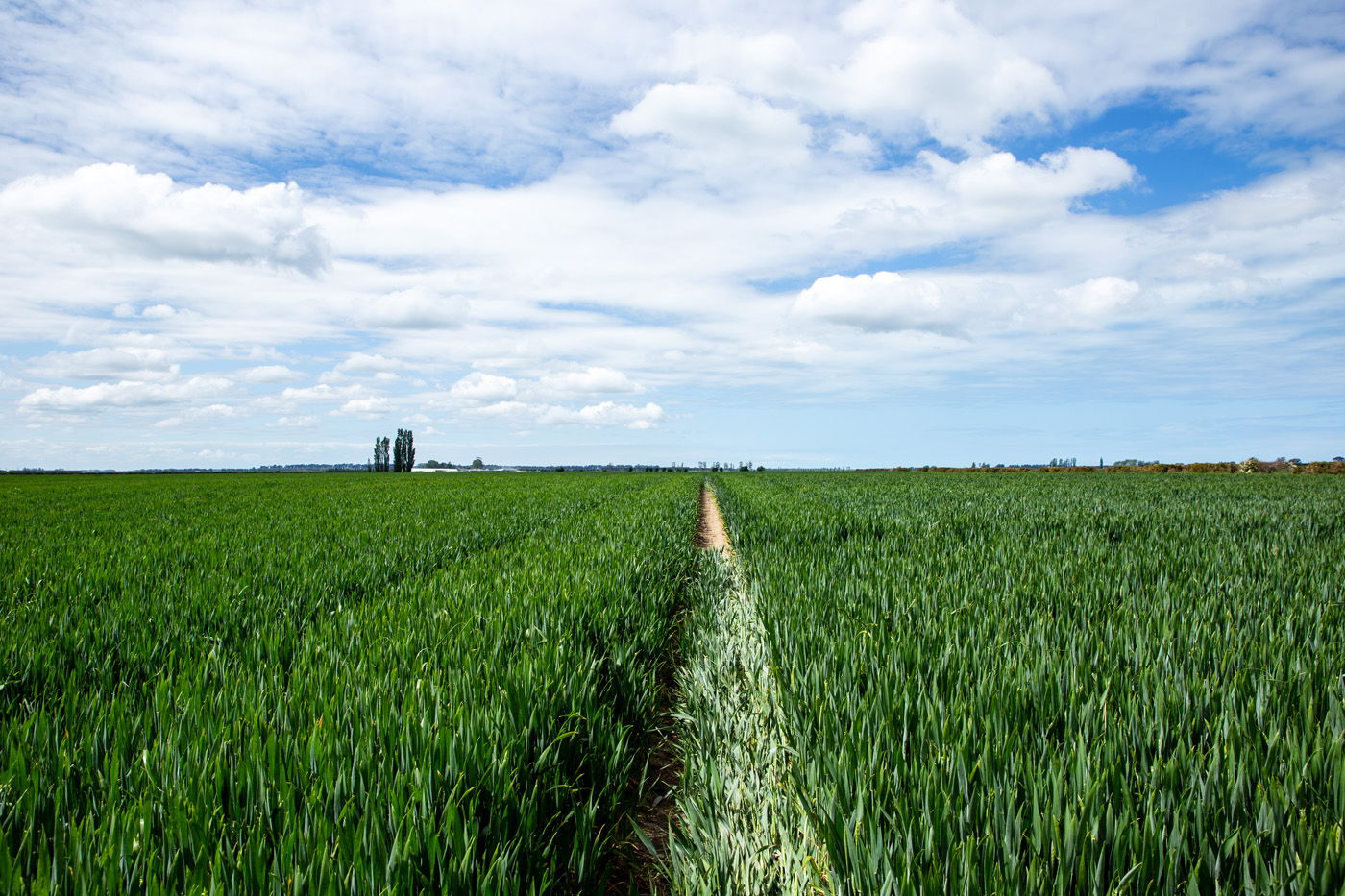 Originally from the North Island, Ryan has always had a connection to the agricultural industry, graduating with a degree in agriculture and spending four seasons in dairy farming. Ryan later transitioned into Agri-banking for a good chunk of his adulthood, living in Hawke's Bay, Nelson and Rotorua. His wife is from Canterbury, so their family ended up moving back south where he landed a job at Carrfields in the arable side of the industry. "It's been fascinating for me to see how the seed is produced, where it's used and what it takes for our New Zealand growers to produce it," he said. Ryan and his wife have three children who keep them busy and, as a family, they enjoy going to the snow and the beach, which are both not far from where they live in Christchurch.
Coming from a corporate background, Ryan appreciated the fact that Carrfields is 100% family owned. A lot of the family still work in the business and maintain a humble presence. The grain and seed division has a team of around 35 members and has continued to grow significantly over the last few years with the incorporation of pastoral agronomists.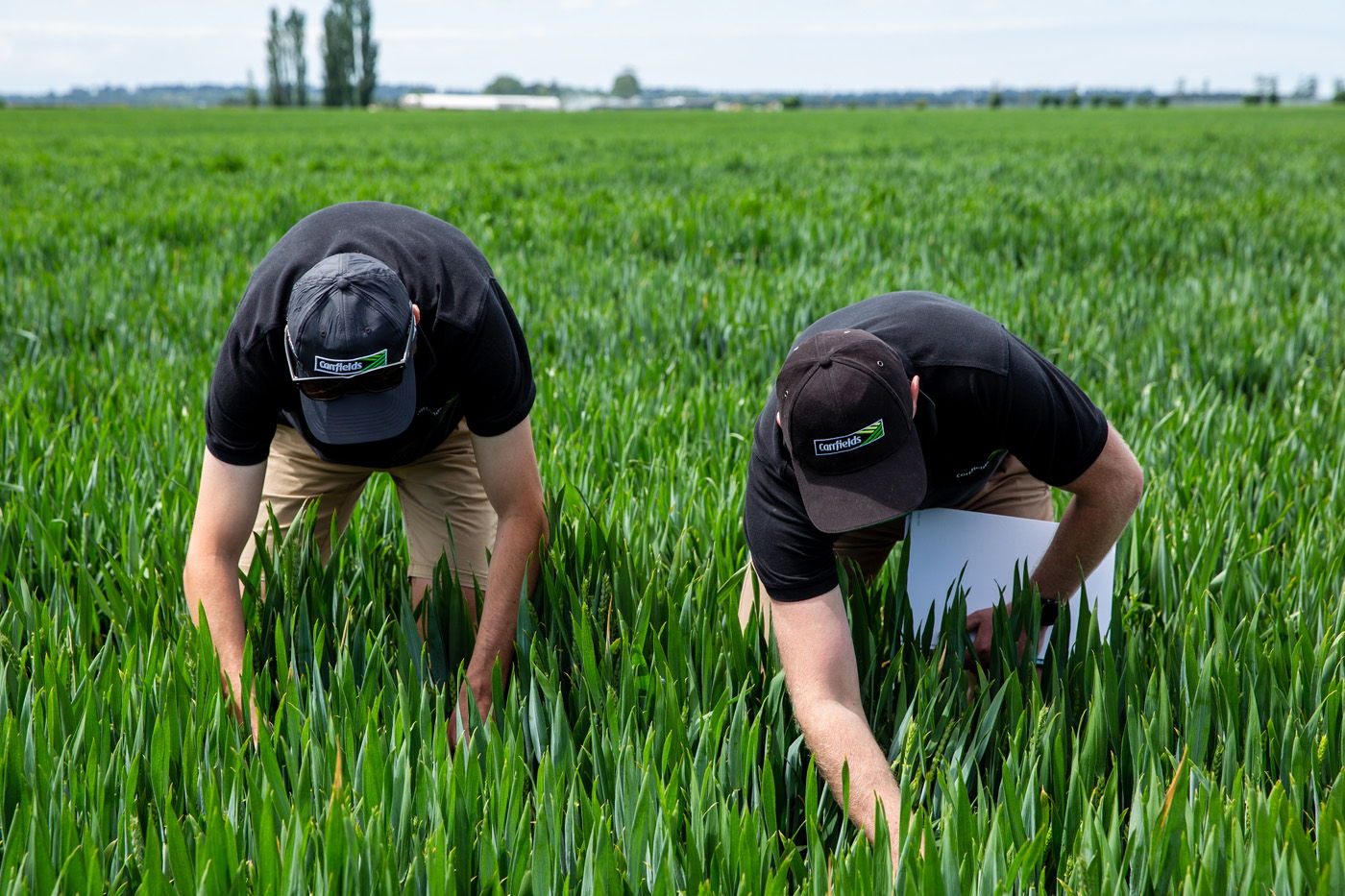 When we visited one of Carrfields' cropping sites, we were introduced to Luke Evans, one of their R&D agronomists. His role consists of overseeing their cereal and pea programmes, along with a few other crops that they grow. We observed their autumn-sown winter wheat trials, where they were assessing Carrfields' wheat varieties against competitive varieties to manage their growth and see how well it performs. "Our wheat feed variety is then distributed to the dairy industry or stock feed mills, and our biscuit and milling varieties go to milling, which is the process of turning grains into flours," Luke said.
"Our research and development (R&D) division are critical to our business. Not all businesses conduct their own R&D, but we've got two full-time dedicated staff members who are working on the cereal, seed, hemp, buckwheat and pea R&D projects. It is really important for us to progress the New Zealand arable industry and add value to our customers to help them strive for better results," Ryan said.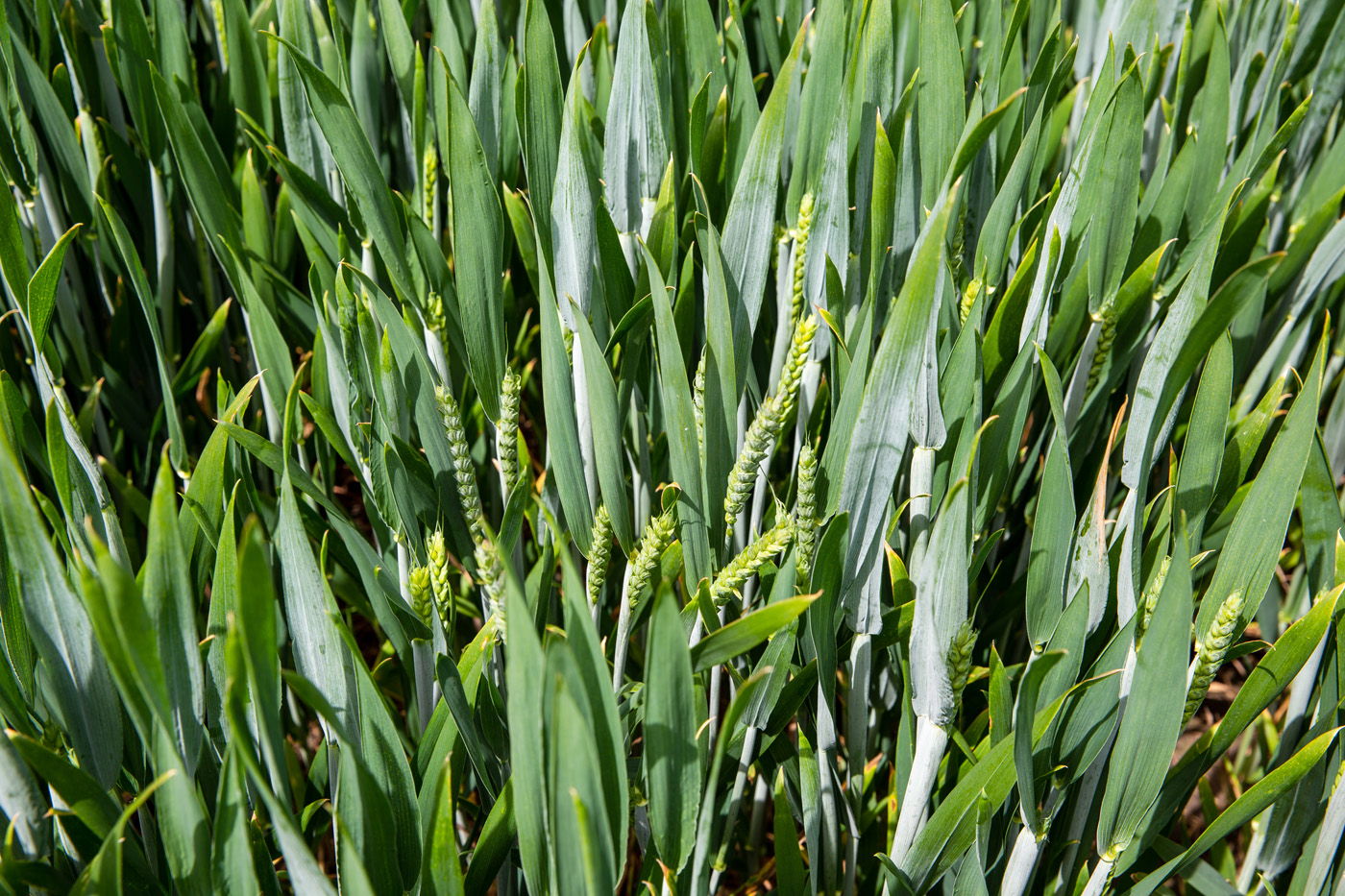 "Another thing that's really important to us is bringing new varieties to the market. Every year, we're bringing new cereal varieties in from our breeding partner and growing them in New Zealand conditions, making sure that we've got good varieties that we can give our customers so they can strive for more. I guess for our farmers, especially in this environment, it's about growing a cost- effective crop and maximising yield, which, therefore, gives them the maximum amount of profitability. If you don't keep evolving with new material, then the industry remains stagnant, so we need to progress the industry forward," Ryan added.
One of the best things that Ryan enjoys about working with Carrfields is the people – the growers and the team that he works alongside and the international customers. He strives to always give competitive contracts to their growers, so that they can have a successful business and a sustainable New Zealand arable industry. Those long-term relationships are paramount to the success of the business, and Ryan takes great pride in maintaining those connections and listening to the needs of their growers. "Like Luke, our team are specialists in what they do and we've got the specialists who know exactly what they're doing, whether it is growing or working with a farmer to achieve the best results," he said.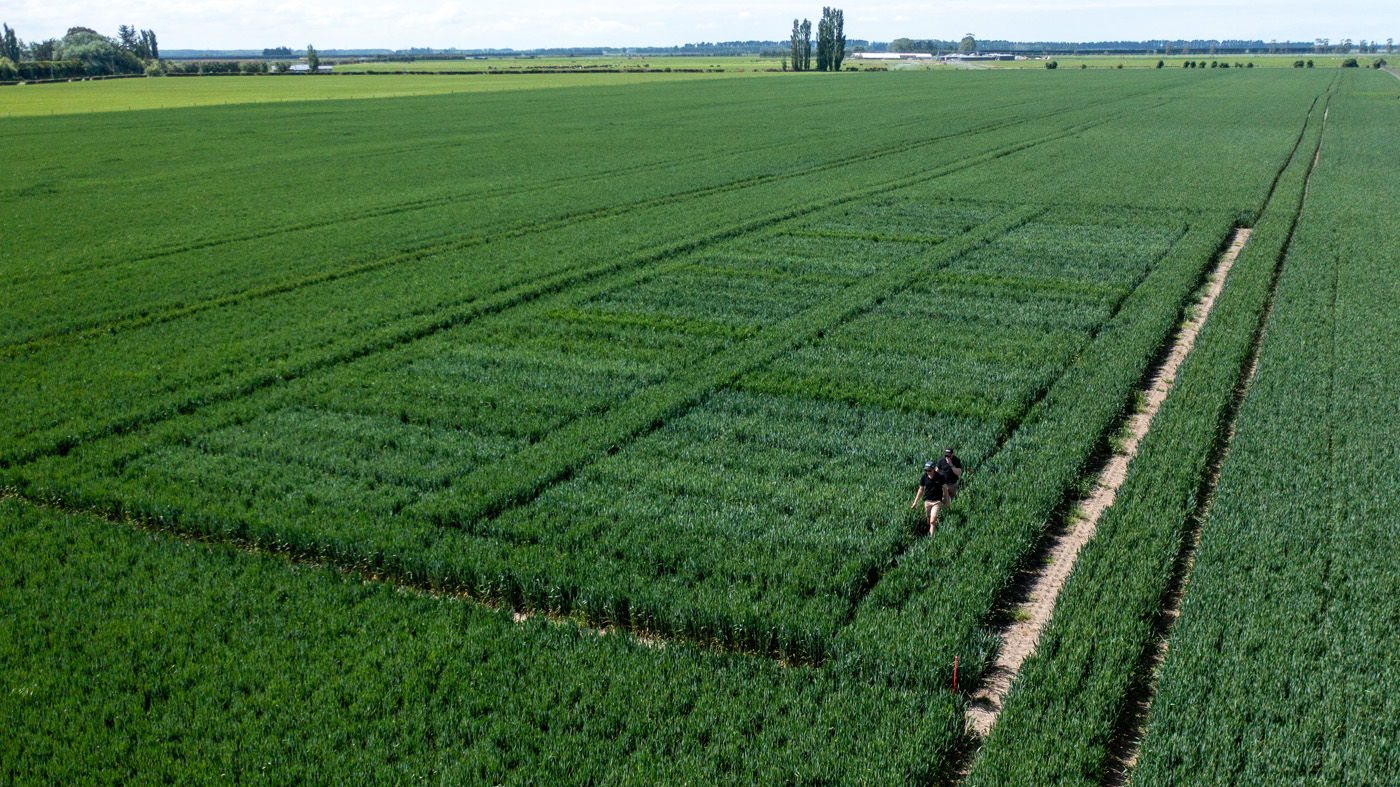 "In the arable industry, no year is the same. However, it's always really enjoyable in terms of the people that you work with as it's quite a small industry. Whether it's our customers, industry professionals or your teammates, the people in the seed industry are good people to work with," Ryan added.
With increasing input costs for growers, Ryan mentioned that it's Carrfields Grain & Seed's job to get prices up in the international market to make it sustainable for New Zealand growers.
Carrfields Grain & Seed want to work alongside their farmers to help navigate their way through challenging legislation to ensure they can grow cost-effective, high- yield forage and crops. They will continue to grow their Pastoral business, focus on their R&D programmes whilst progressing their broadacre hemp fibre market for the domestic construction, geotextile market and international bio composite and apparel markets.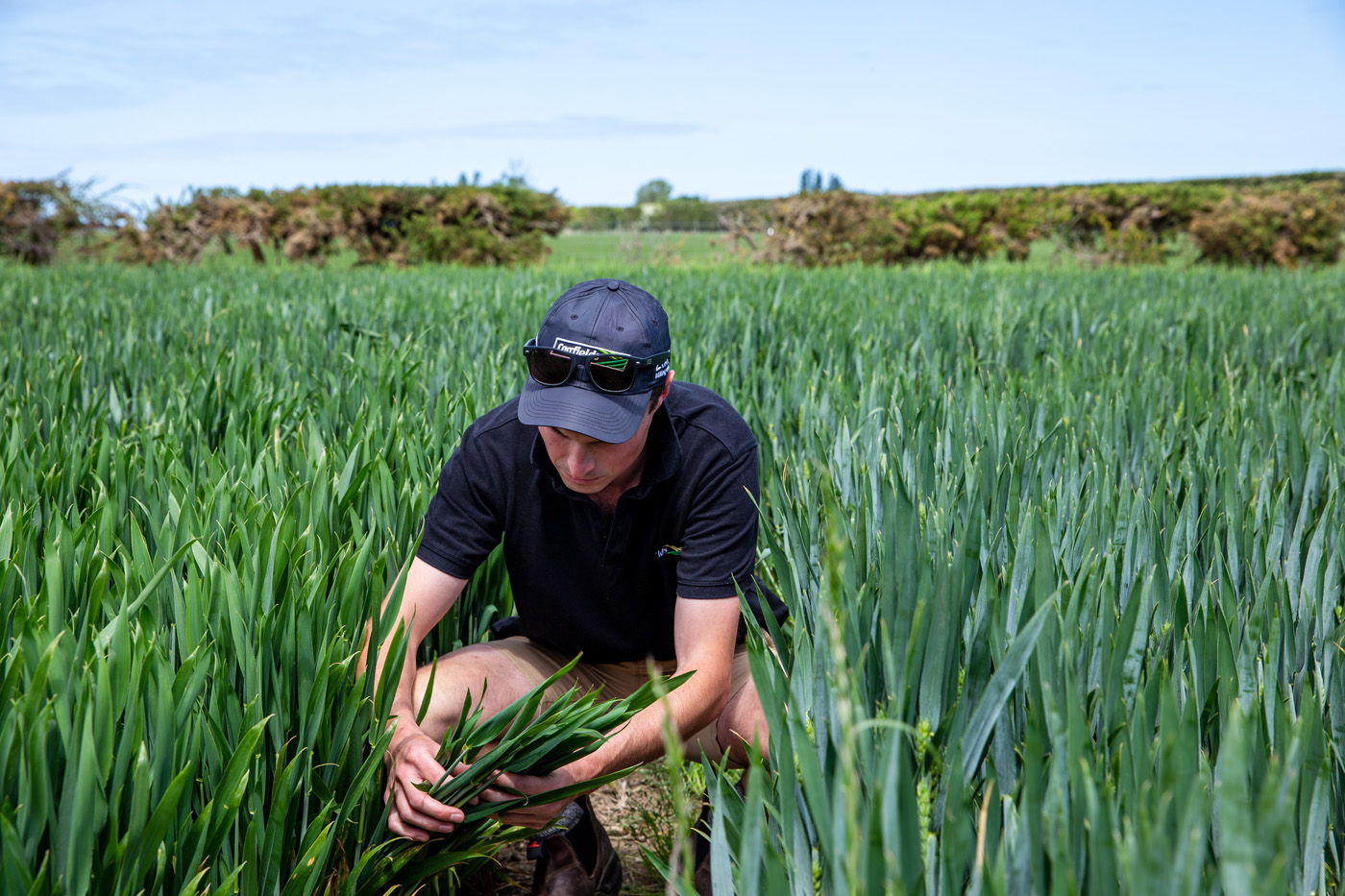 Date posted: 1 December 2022