Goldpine
Godfrey Quemeneur and Rachel Downes : A Rural Slice of Paradise
GodsOwn Brewery
---

Godfrey Quemeneur and Rachel Downes are the owners of Hawke's Bay's hidden gem, GodsOwn Brewery. The brewery is located 20 kilometres from Hastings in a rural settlement called Maraekakaho. Godfrey and Rachel gained a wealth of inspiration after many years travelling overseas, experiencing different cultures and being involved in the hospitality industry; they created GodsOwn Brewery to reflect those experiences and to bring people together.
GodsOwn Brewery features vintage caravans as their bar and kitchen, a safari tent as their dine-in restaurant, a brewery and a hop garden which customers can sit under to enjoy their wood-fired pizza and Hawke's Bay's finest craft beer – brewed onsite.
The property was bought in 2010 with Godfrey and Rachel living next door to the brewery. They occupy six and a half hectares of lowland close to the river, giving them great topsoil to work with. GodsOwn Brewery has a lot of unique features that attract people from near and far to their destination. "I think our location is unique as people talk about us being in the middle of nowhere. We're 20 minutes from town but it does feel like you're somewhere else. We've worked to make that feel deliberate when you come down the driveway and you come into this area that you didn't know was here," Rachel said.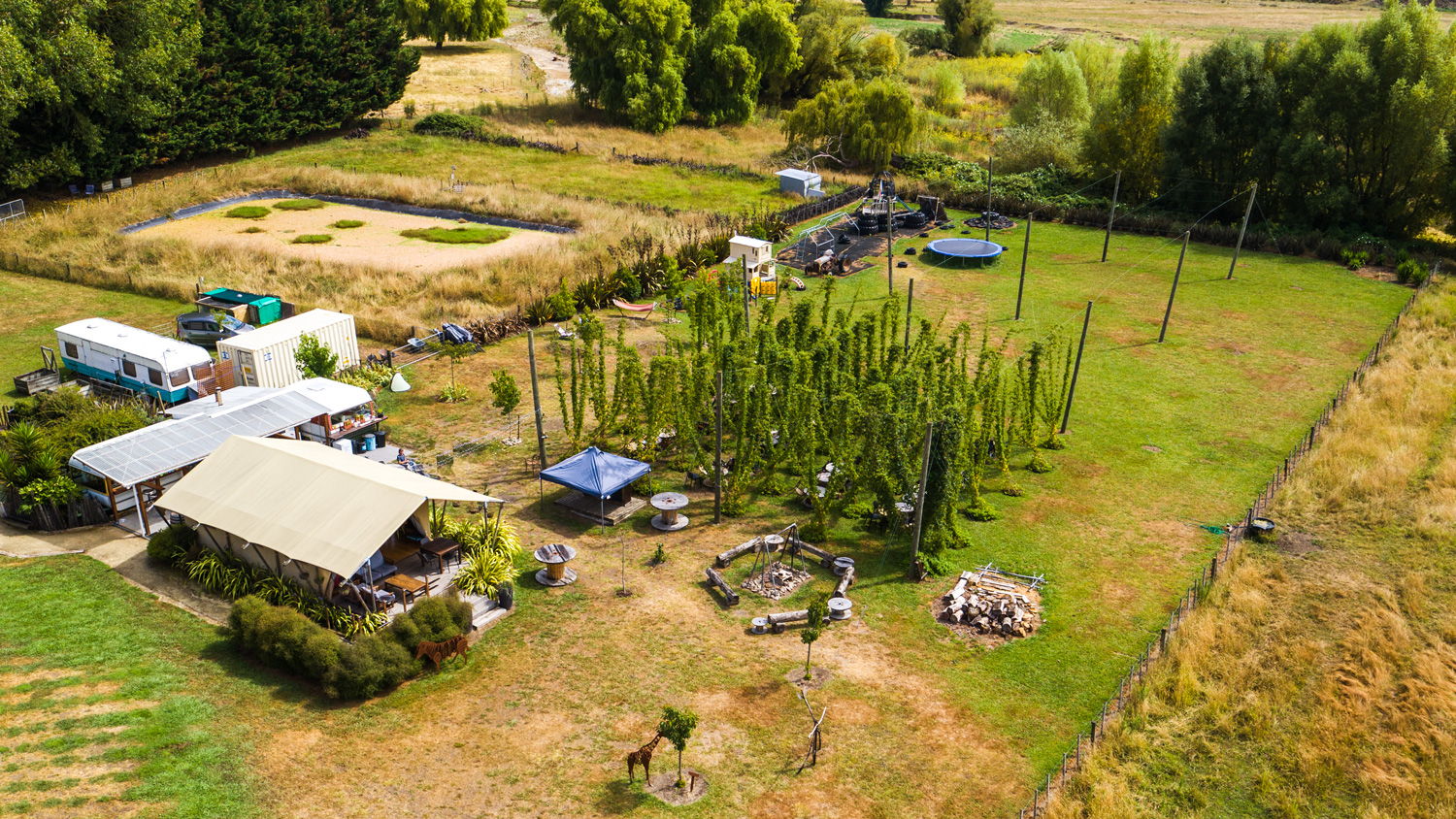 They use their hop garden – which features 189 individual strings of hop branches – for two of their beers. GodsOwn Brewery's most popular beer is their annual hop: Holy Hop Green IPA. They use the majority of their hops fresh and green but also source a variety of hops from New Zealand and overseas – NZ Hops Ltd, Alchemy Agencies and Bintani Hops being the main suppliers. Godfrey told us that with the New Zealand craft brewing industry being the way it is, they are in high demand for hops so they source from different outlets depending on what beer they're making.
Godfrey runs the brewery himself which features an 800-litre system. The brew shed was built first with the Premier System being customised to fit within the building. It took three days to install everything as their brewery is a small compact system designed predominantly for a sole operator. "We decided that our business model is to make a product available from a destination point of view. We wanted to create a destination venue where people would have to come and try our product. We knew there was a competitive market and we thought that if you were a boutique, you'd stand a good chance as opposed to trying to compete on supermarket shelves. We never intended to bottle or distribute, we thought that beer lovers would make the effort to come out and experience the beer in the environment that it was made. We think that sort of encompasses the full experience and the enjoyment of the beer as well as our food options and the wonderful country setting," Godfrey said.
"We're not travelling around the world anymore, we're trying to bring the world to us instead," Rachel added.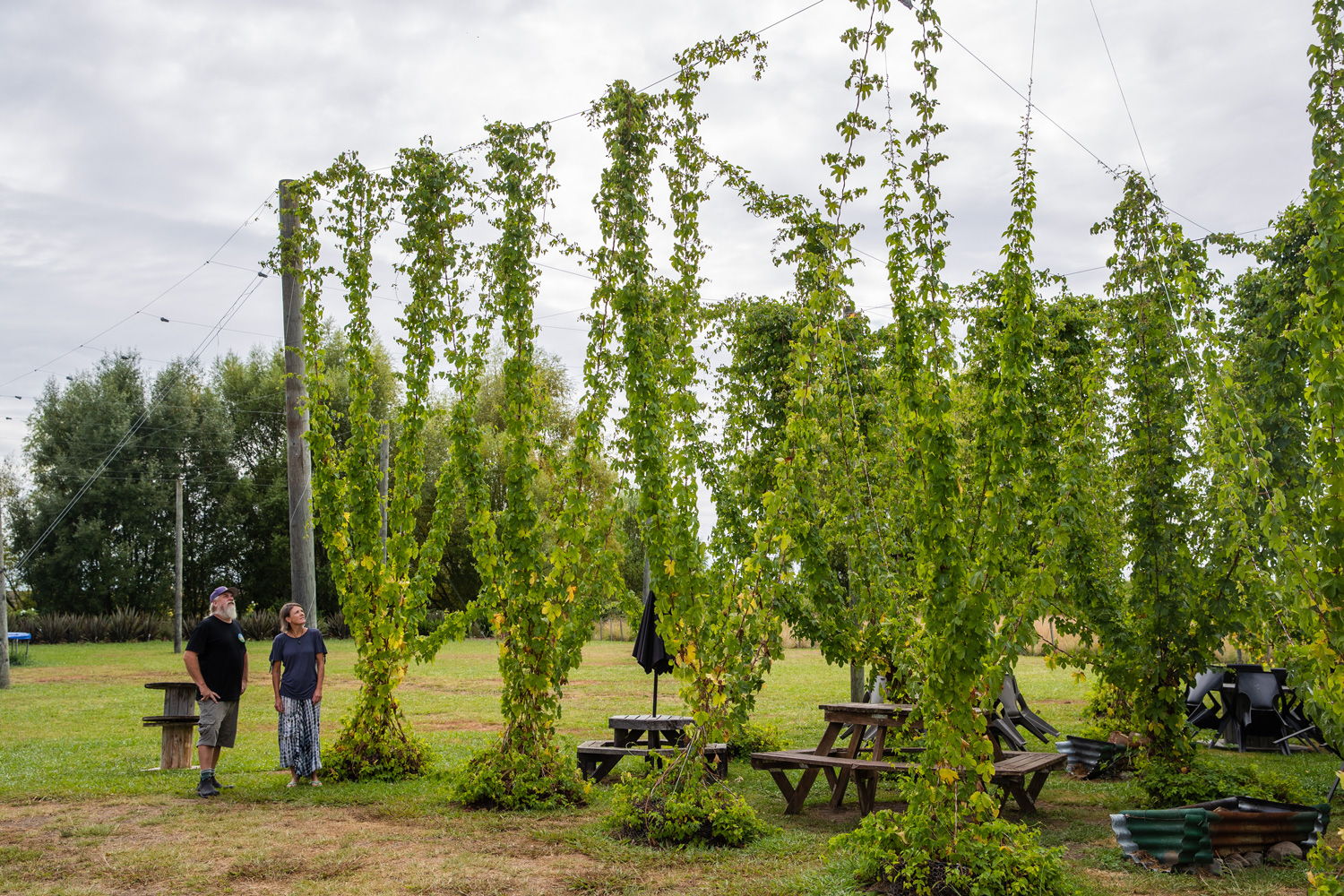 Their seasonal beers are generally brought out once a year, namely their espresso coffee stout, which gets people excited when they realise that it's back on tap so there's an exclusivity to it. Each beer never has the same recipe which gives Godfrey room to craft the best brew that's even better than the last. Godfrey and Rachel are open to selling their beer to the odd person who asks but being small producers, they wouldn't do this regularly. Local bars in town have guest taps where they supply local beer so they are happy doing that from time to time.
GodsOwn Brewery has eight staff in total (two full-timers, two part-timers, two casual staff, and Godfrey and Rachel). The thing they like most about running their own business is the interaction with people and developing relationships with their customers. Godfrey is the brewer and works in the bar and Rachel works front of house so the customers really appreciate that.
"We wanted to grow hops purely because we thought it would be great to add to our beer portfolio. The idea of beer farming was something we thought about, along with owning land and what it could offer towards our business; one of them is growing hops, also using certain other things that we do with the menu; and obviously being more self-sufficient and using the land to our benefit," Godfrey said.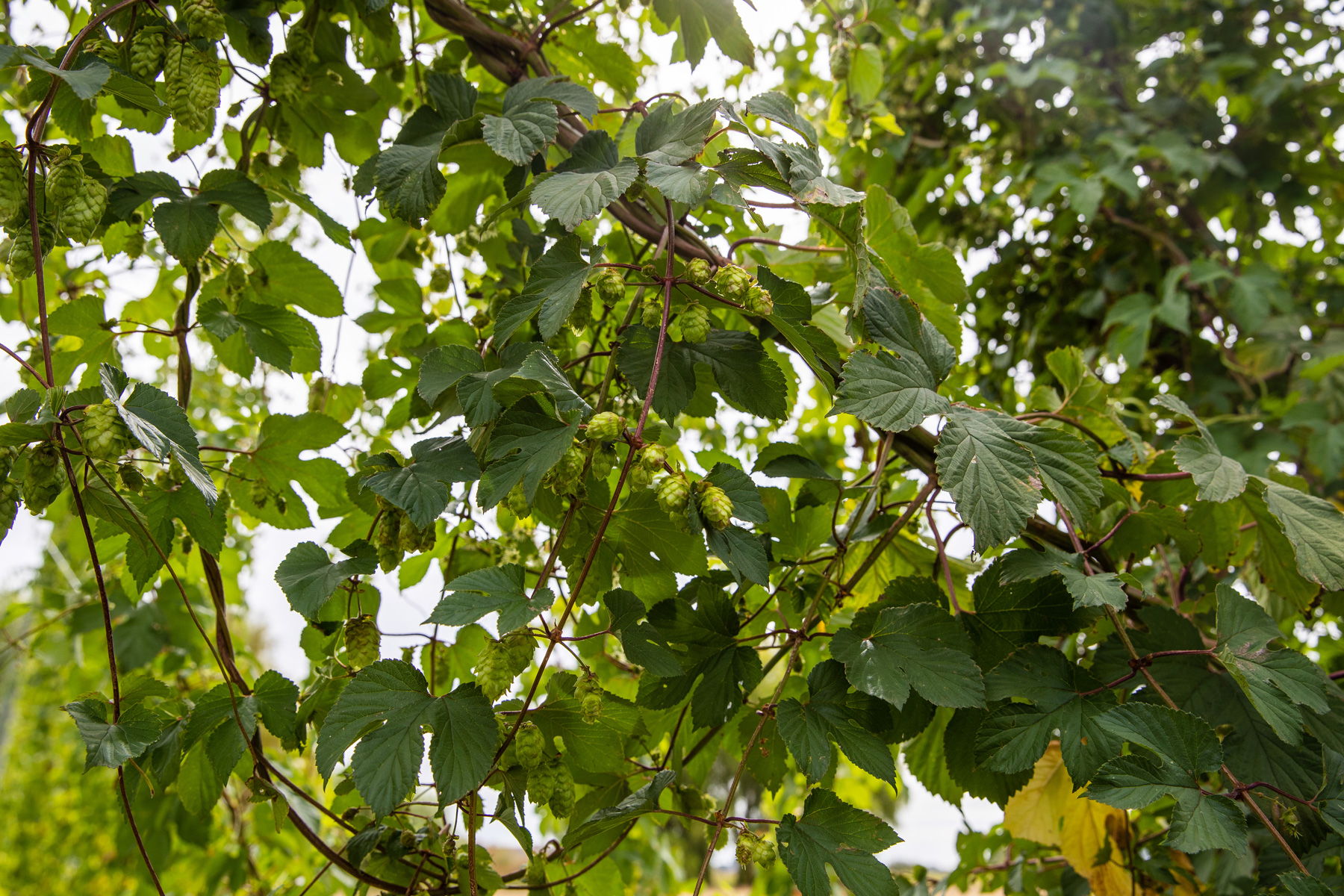 The pair have also been conscious about maintaining a low carbon footprint by managing the majority of their waste products onsite through their buildings and processes. The caravans and the tent on the property are second-hand and the children's playground is recycled, with a lot of other things being donated by members of the community. Since moving to the property, they have removed pine trees that resided in the area and have turned it into native bush. The grain that they produce is fed to their cattle and they also use it to make crackers that they serve on their menu.
"We have a retention pond for collecting our waste water which can then be used for paddock fertigation in the future. We separate our yeast trub before it goes into the retention pond and add it to our compost instead. We use chemicals that allow for natural acid/ caustic neutralisation in a holding tank prior to being pumped out into the retention pond, allowing for a good alkaline base for our waste water," Godfrey said.
Their favourite place to sit is on the deck where you get a good view of the property but the hop garden is also a favourite spot for their visitors. "The kids' favourite place is probably the trampoline," Rachel said. It's a very family-friendly destination – a playground for the children, a relaxing place for adults and is a very popular place for dogs too.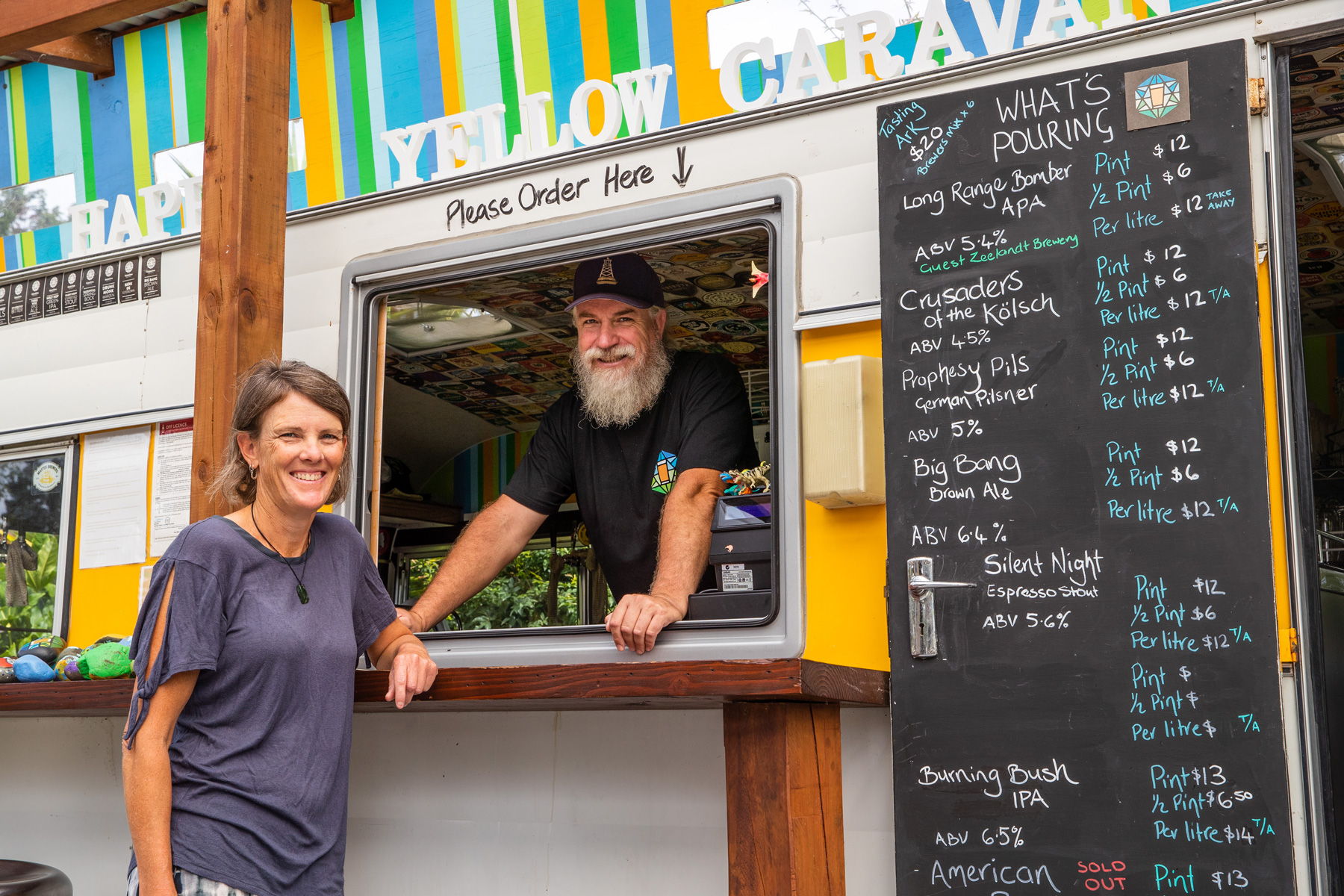 GodsOwn Brewery also participates in initiatives such as Gumboot Friday where they raised $5,000 for kids' mental health and counselling services by giving children rides on a tank in the paddock for a gold coin donation, amongst other activities. They have also provided complimentary vouchers to New Zealand Young Farmers so that members can come out and visit their destination.
Godfrey and Rachel weren't brought up in the agricultural sector. The idea to start the brewery stemmed from Godfrey's interest in brewing beer which began when he was living in Nigeria for two years. When they arrived back in New Zealand, their design inspiration for the hop garden came from Left Fields Farm (an organic hops farm based in Canada) because, at the time, there wasn't any information from the New Zealand Government on creating a hop farm. GodsOwn Brewery became the first North Island commercial hop trellising system that New Zealand had seen for quite some time, as the majority of New Zealand hops are grown in the Nelson region at the top of the South Island.
In 2012, they reached out to Goldpine Hastings to start the beginning of their hop garden journey, celebrating their opening party in December 2015. They purchased posts (which Godfrey mentioned resembled power poles) from Goldpine measuring eight and a half metres in length – a metre and a half which is buried in the ground. They sourced a couple of local fencers and a digger to help install them.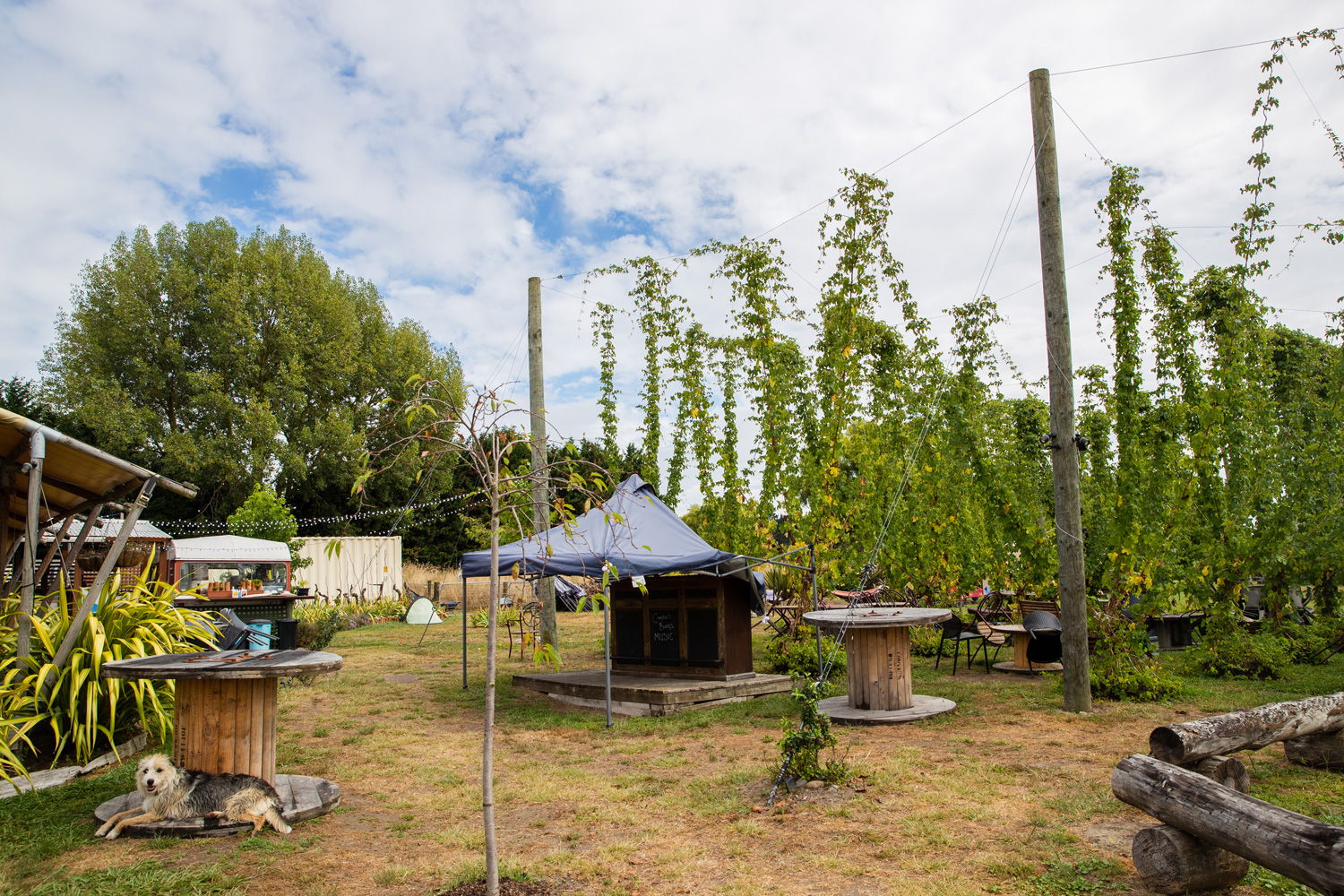 "I spoke to the branch manager at the time and he was quite keen to jump on board. It wasn't something they always had on hand but something they could source. They brought it on a flatbed and dropped it off for us. We've had no problem, no movement, no sagging and they've been treated as well. The poles have been solid as," Godfrey said.
Godfrey and Rachel also use Goldpine products for their rustic tasting arcs that they use in the restaurant. They had a fencing friend who came up with the idea for them where they use number eight wire and Goldpine's RHINO® posts.
If the pair are not in and around the brewery, they love to spend time at home with their two children. They generally don't stray too far from home but if you were to visit, you'd understand that this destination is a slice of rural paradise. Their plans for the future involve the expansion of hops, although they're waiting to see what happens in the coming years with the New Zealand hops industry. Godfrey and Rachel hope to see more momentum for hop growers to start producing in the North Island, and better yet, the Hawke's Bay region.
Date posted: 23 February 2022