THE NEW STANDARD
A new standard has been set for outdoor post and poles. A new standard for the production process. A new standard for our environment.
It is our pleasure to introduce Heat Fixation®. It's another area where we are raising the bar.
Wood is a natural, carbon-sequestering powerhouse which makes it the most environmentally friendly resource in the post and pole game. With Heat Fixation®, it just got better!
The combination of locking up carbon with our 50 year treatment guarantee and Heat Fixation® makes our post and poles the right choice for the environment. We have always said you should use wood wherever possible. It's locked up carbon for the long haul. When it comes to the environment and sustainability, we know that it boils down to the simple decisions consumers and businesses make every day. That is what makes choosing a product that eats emissions for breakfast so powerful. The use of natural, sustainable products is essential in the fight to offset our emissions and the impacts of climate change. Wood is the best resource of choice as it is natural, renewable and comes from sustainable replanting programmes.
The secret sauce is using harvested wood products and then planting another tree where the last one stood.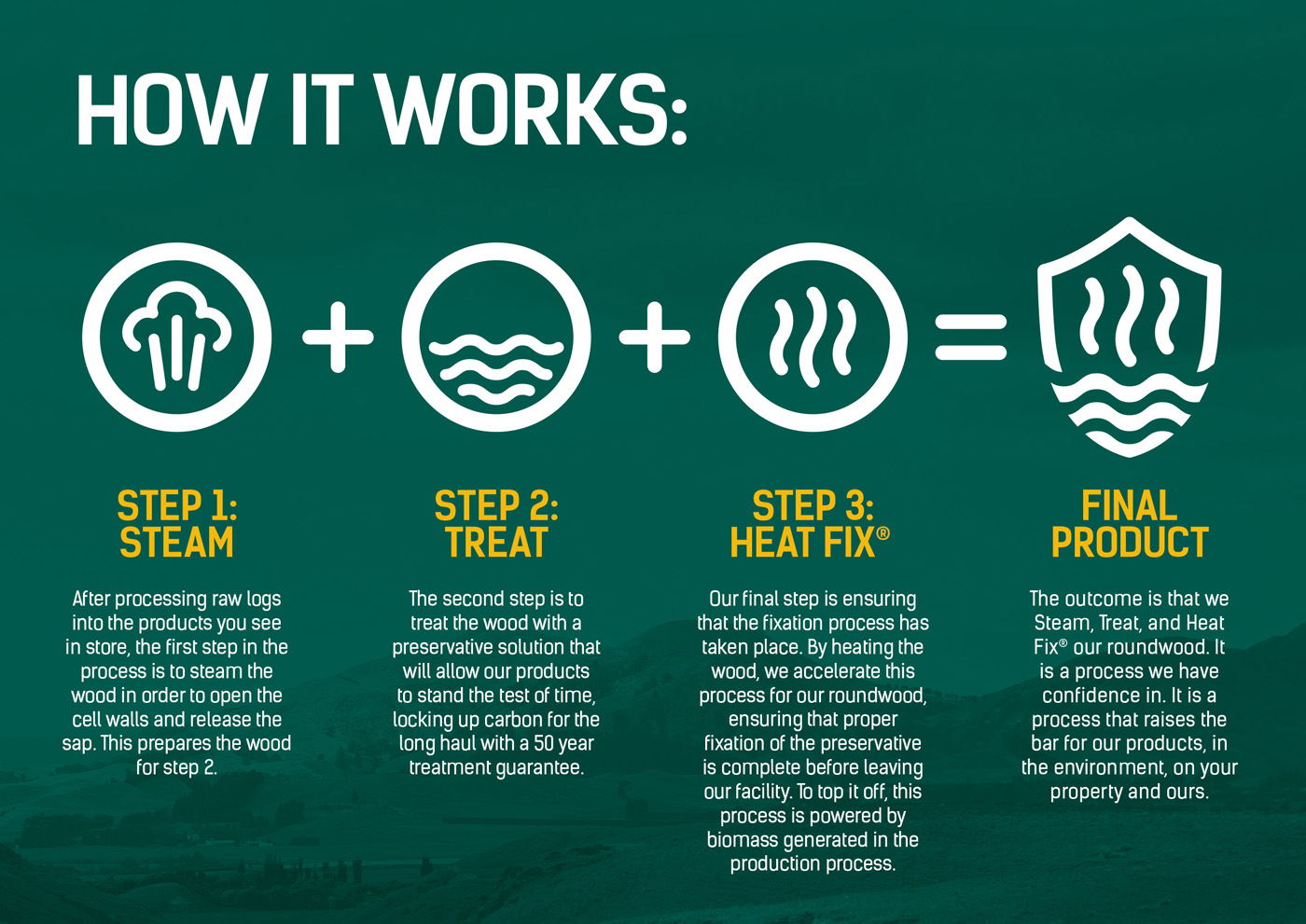 The benefits of our new Heat Fixation® process is best understood with a brief explanation of our production process. At Goldpine, we've honed our three-step process to ensure we are delivering a properly fixed product that can go the distance.
WHY DO I NEED 'PROPERLY FIXED' FENCEPOSTS?
As with all industries, there are standards that need to be met. When they are not, it can lead to undesirable outcomes. For the post and pole industry you might have seen this before with 'wet' wood being delivered to you (before proper fixation has been completed), potentially even dripping preservative on your site. Fixation, effectively the process of the preservative binding to the wood, is a function of temperature and time. Fixation at ambient temperatures outdoors can take weeks or months depending on variable conditions. Heat Fixation® accelerates that process to ensure that proper fixation has been achieved before it leaves our production facilities. That goes for 100% of our roundwood.
It is the new standard in outdoor posts and poles.
PREVIOUS WOOD STILL SAFE
To achieve proper fixation in the past, we have held large volumes of stock at our production facilities for longer to ensure fixation occurred prior to leaving our gate. Now, with Heat Fixation®, our roundwood comes with greater environmental benefits for both our production site and our customers' properties, especially during cooler months or in cooler parts of the country, knowing that an accelerated fixation process has been completed.
With over 40 years in the roundwood game we have seen a lot of changes. This is one of those changes that is a major step forward.
Ask for it by name: Heat Fixation®.
For reference and further science behind it, please see the
Date posted: 23 June 2022