Goldpine
Phil Richmond: Wonder Wall
Steve Brown Builders
---

Nestled up in the hills of Christchurch, we visited Phil Richmond and the small team from Steve Brown Builders, who were busy working on a building site in Hillsborough.
It was a beautiful day for it, seeing Canterbury reach high temperatures of up to 27°C. Overlooking green hill pastures, you could catch a glimpse of people using the walking tracks in the distance. This is what the homeowner will be looking out at once their two and a half story house is built within the next 15-18 months.
Steve Brown Builders have been around since 1985 and within those 35 years, not only do they pride themselves on good quality work, they have done a variety of different projects ranging from moderations to high-end housing. They tend to stay away from the commercial side of things and focus more on residential work.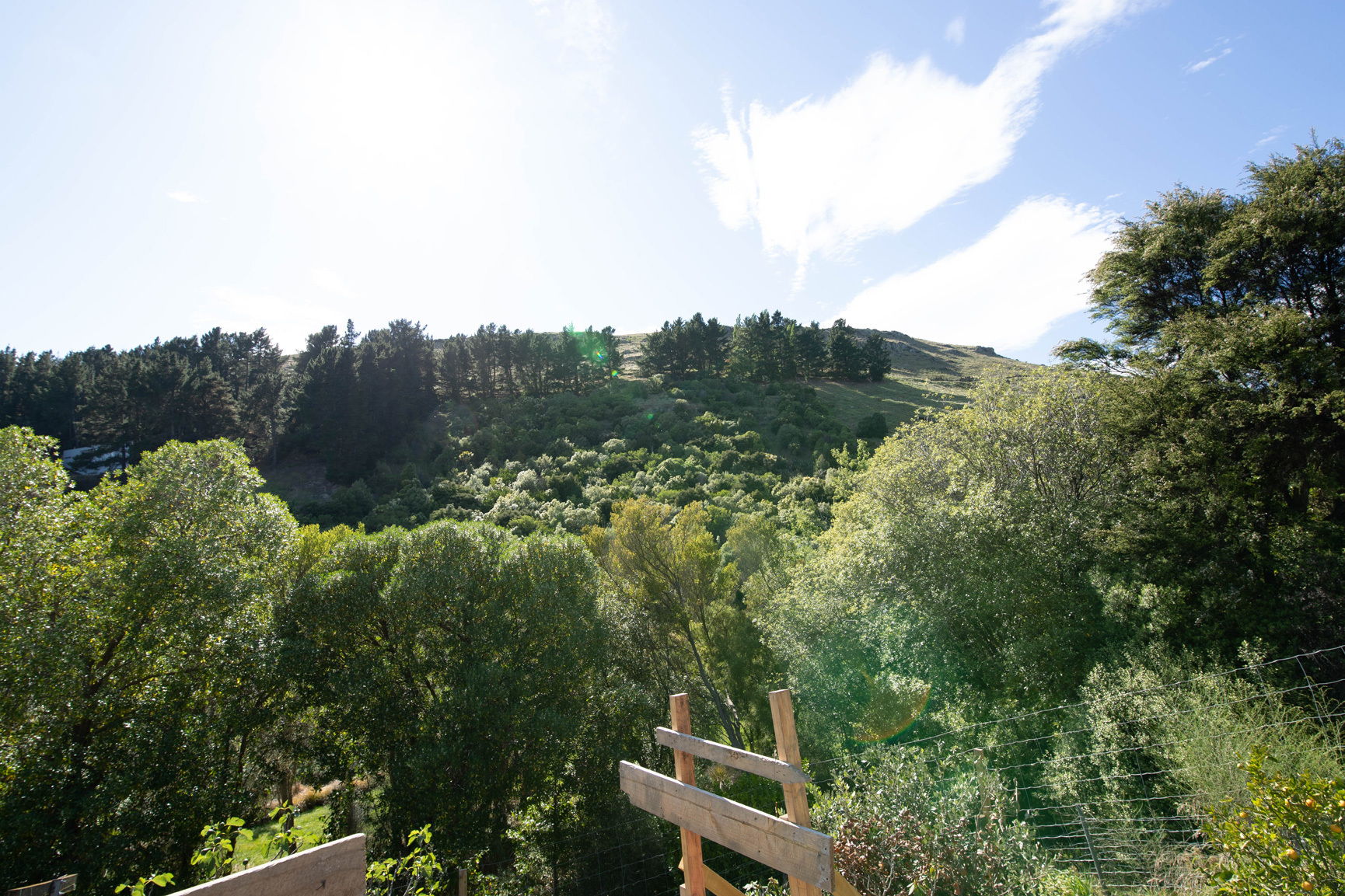 Phil has been working in the industry for around 20 years. Originally from Te Anau, he moved to Christchurch when he was 13 years old. Phil said that getting into a trade was something to do right out of school, so he got into building. He's been with Steve Brown Builders for 10 years now. A small but mighty team, Phil had one other main worker onsite, and then two helpers. The house that they're working on is a 450 square metre section that will have cedar weatherboards on the outside, Dimondek® cladding and blue stone.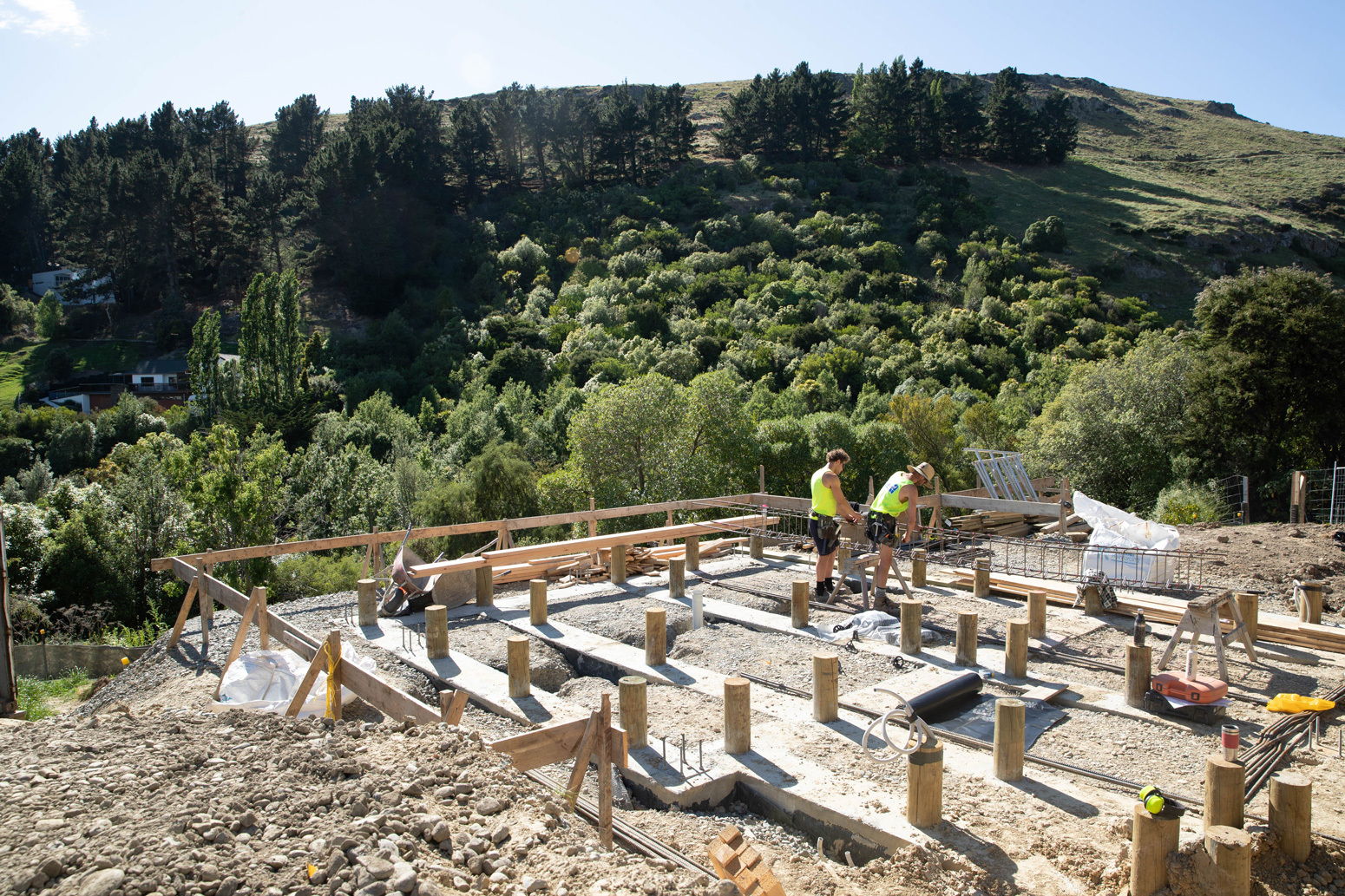 Before getting down to business, Phil said that the set out and planning stages are essential, "making sure you've got all your ducks in a row". Working with the architects and engineers helps this process run more smoothly. Phil and the team haven't been on the site for long, but we couldn't help but notice the big retaining wall that was at the back of the section. Phil mentioned that "Browney" usually deals directly with Cam Tyler from Goldpine Hornby to price everything up. However, once it turns up onsite, it's usually the site manager that usually deals with everything else — which in this case is Phil. "They're good — Cam is a good bugger, so no drama. Got everything through when we needed it."
This is the first job that they've done with Goldpine, but Phil couldn't help but rave about the posts being exactly what they were after. There were no hassles with the delivery, and it just made the whole process so easy. The product that they used on this job were the retaining wall poles. They ordered around 38 of them that were all nine metres long. "The posts are bloody bang on. The timber that turned up is good. No dramas — easy. That's the big thing is if we've got hassles it tends to make my life more difficult, " Phil said.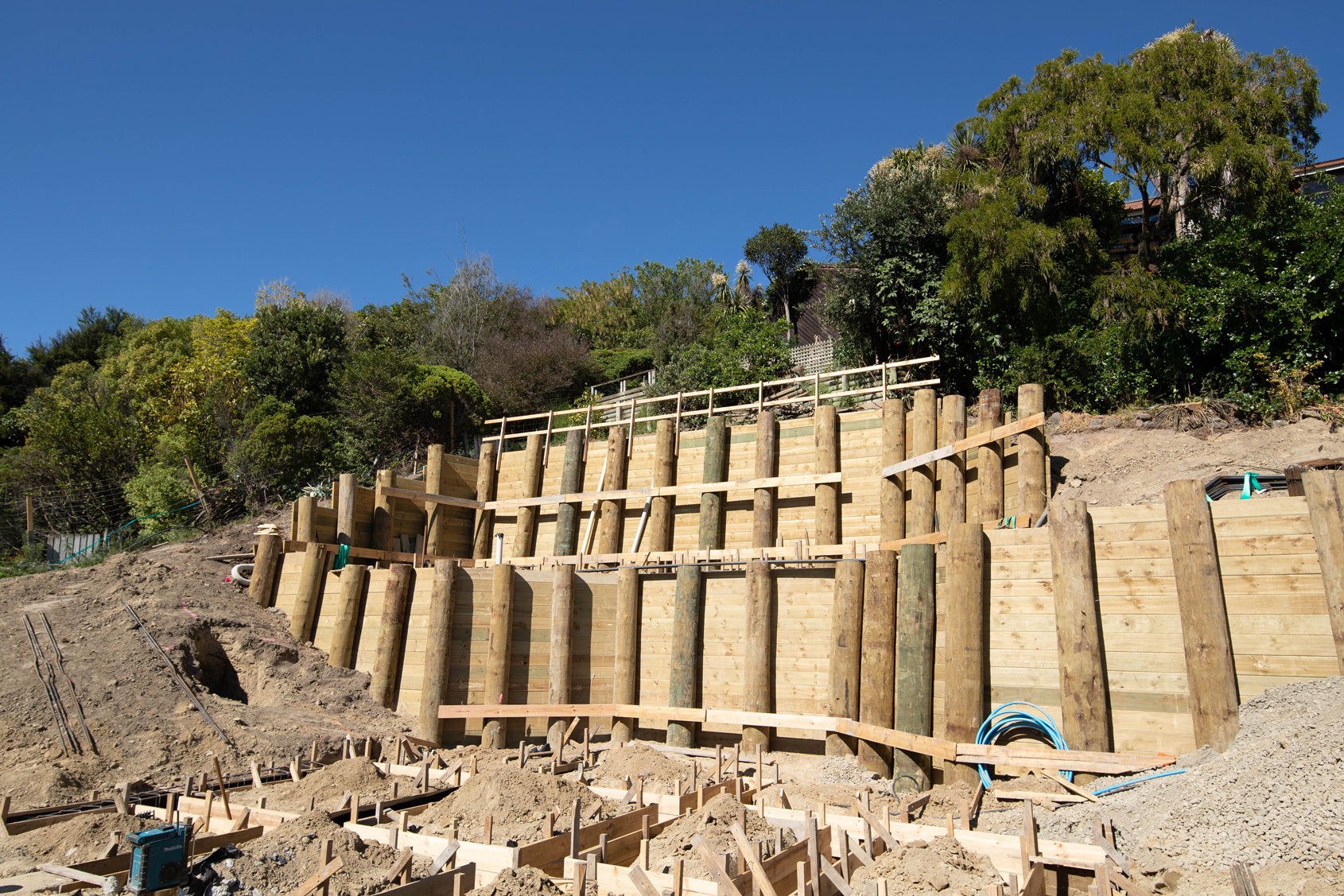 Phil mentioned that not only were Goldpine's high density round poles the best quality for the work that they needed to do, they were also cost effective. The affordability, as well as their quick delivery, were two important factors for Steve Brown Builders.
We hope that the sun keeps shining in Christchurch for Phil and the team at Steve Brown Builders as they continue to work on the Hillsborough house, that will be home to many great sunrises and sunsets.
Date posted: 3 December 2020