Goldpine
Paul Toneycliffe: Couldn't Have a Better Building
---

We visited dog trainer and animal behavioralist, Paul Tonycliffe, at his 10 acre lifestyle block in Yaldhurst, on the outskirts of Christchurch.
I think it's fair to say that Paul is an avid animal lover, having 20 years' experience as a general purpose dog handler for the police force. He recalls it as being the best job in the world. Paul has also spent 14 years training detective dogs at the airport but has since moved on to start his own dog training business, Riverlands Dog Training.
"A lot of the stuff I do is behavioral modification, making dogs behave themselves. Dogs are pretty much like a kid, like children raising. You reward them for being good and you don't reward them when they're not good."
Paul has owned his lifestyle block since 1986 which is situated halfway between Yaldhurst, West Melton, Hareward and Templeton. He has 6 sheep, a donkey, 2 beehives and a few different crops. When he started out, it was just a bare paddock but has since evolved into a blooming array of chestnut, almond and fruit trees. He described it as looking like the moon in bad years but when it gets a lot of rain, it grows well.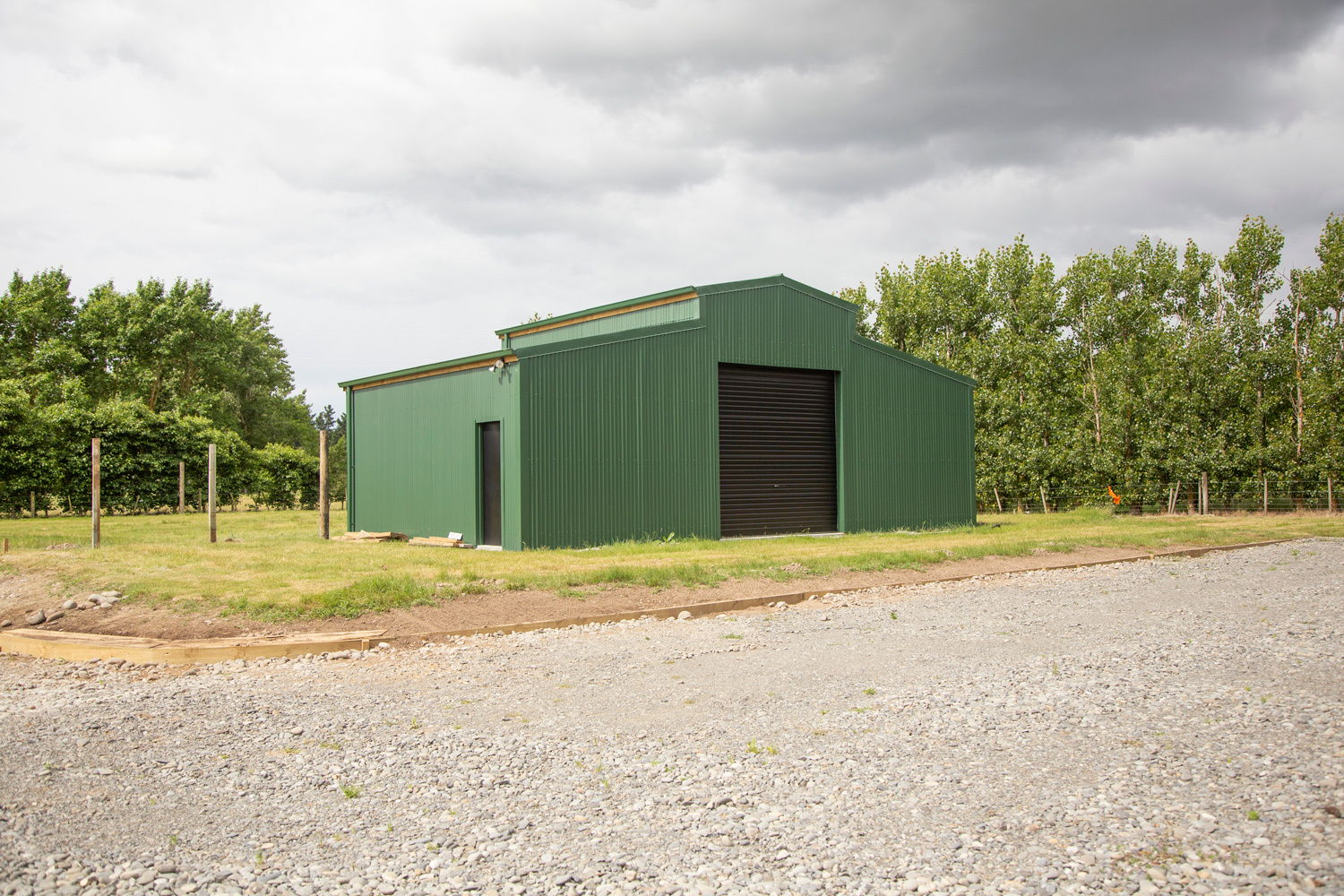 With his business idea progressing well, Paul had a bit of spare land, so he decided to put a dog day care on it. He had a look at what products were on the market and Goldpine came to mind. Paul wanted a strong shed that had three different sections for small, medium and large-sized dogs. For this reason, he went with Goldpine's 3 bay heritage barn which is purposely designed to look good in the countryside. Paul told us that the process was straightforward and with him already buying his deer posts and fences from Goldpine, he knew that the reputation was one of the best in the industry.
Paul dealt with Dave from Goldpine in Christchurch who came out to see him twice and helped him through the quotes, design plans and what best suited his needs. They picked contrasting colours for the doors of the shed, so it wasn't all just one colour. Dave also supplied Paul with a list of reputable builders within the area to choose from. "Dave's been really good putting us on the right track as well, so we're really happy with him. Goldpine gets some good ticks for supplying us all the information we needed," Paul said.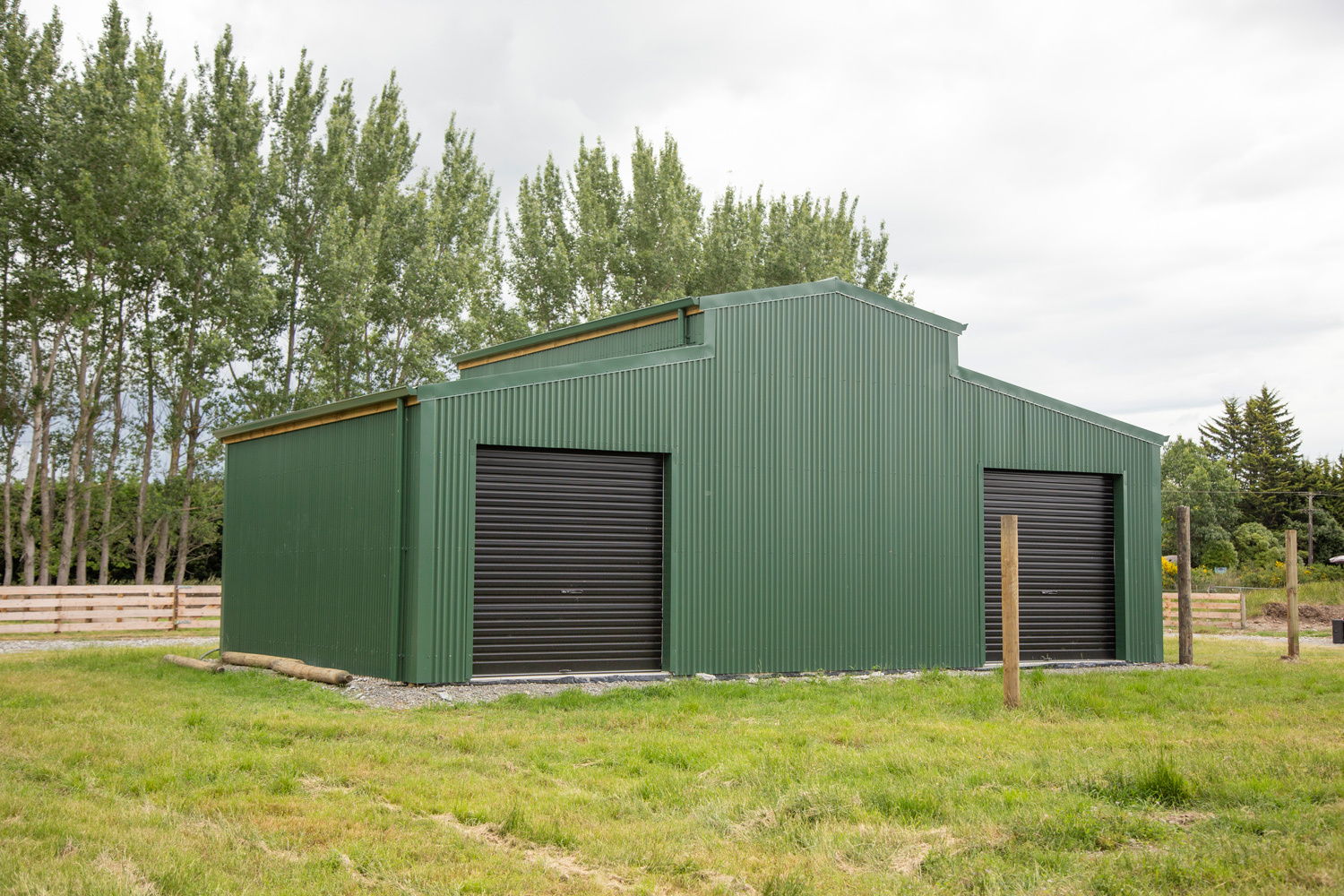 Construction of the shed took about 3 weeks. The builder was very thorough that Paul knew exactly what he was doing and just left him to it. He dealt with all the technical bits such as consent. When Paul got back from overseas, the poles and framework were already done. Paul was considering doing the floors himself, but the builder he ended up choosing did the floors as well, which he was quite happy about. They were well looked after as Christchurch builders were pretty busy at that time, but he was on the mark, building a strong shed for Paul's dog training school.
And the result of it, "it's a really sturdy shed — a strong shed — the Canterbury northwester can whip through here at times and the sheds has already had a few gail winds on it. It just stands there, it's strong".
When asked whether Paul would recommend Goldpine, he responded with confidence, "absolutely, I couldn't have got a better building for what I wanted". At some point, Paul wants to add an office to his 3 bay farm building but for now he is really happy with the final result and finds it such a beauty that you're able to shut the doors, so the dogs don't run away. Paul got an electrician to put up some lights, so it has become an amazing environment for himself and the dogs that he trains.
Date posted: 4 November 2020