Goldpine
On Your Mark, Get Set, Fence
---
Goldpine NZYF Fencing Tournament
It was a fresh, invigorating morning as the finals of the Goldpine NZYF Fencing Tournament kicked off in Temuka last month. Spectators wrapped up warm to cheer on the finalists, a result of 7 regional events held across the first half of this year. Competing in teams of two, contestants had to construct a 25 metre long five-wire electric fence, also consisting of two strainer assemblies, timber posts and a wooden gate – hung and latched at the stay end. Competition newcomers, Zayn Jones and Natalie Ahlborn took home the trophy, which was a massive win for them and the Taranaki/Manawatū region.
The competition kicked off at 8am with saws roaring. Every competitor brought their A-game, to the point that some individuals stripped down to just singlets and shorts, even in negative two-degree weather, working up a sweat. The trophy was placed on top of the speaker for all the competitors to see what was up for grabs. Some members of the public dressed up in their region's colours and the Waikato/Bay of Plenty mascot, Mr Giraffe, was back again for another final. Utes were backed up close to the seven fence lines, which were either filled with people or a fan sign, as they watched their teams compete for two hours.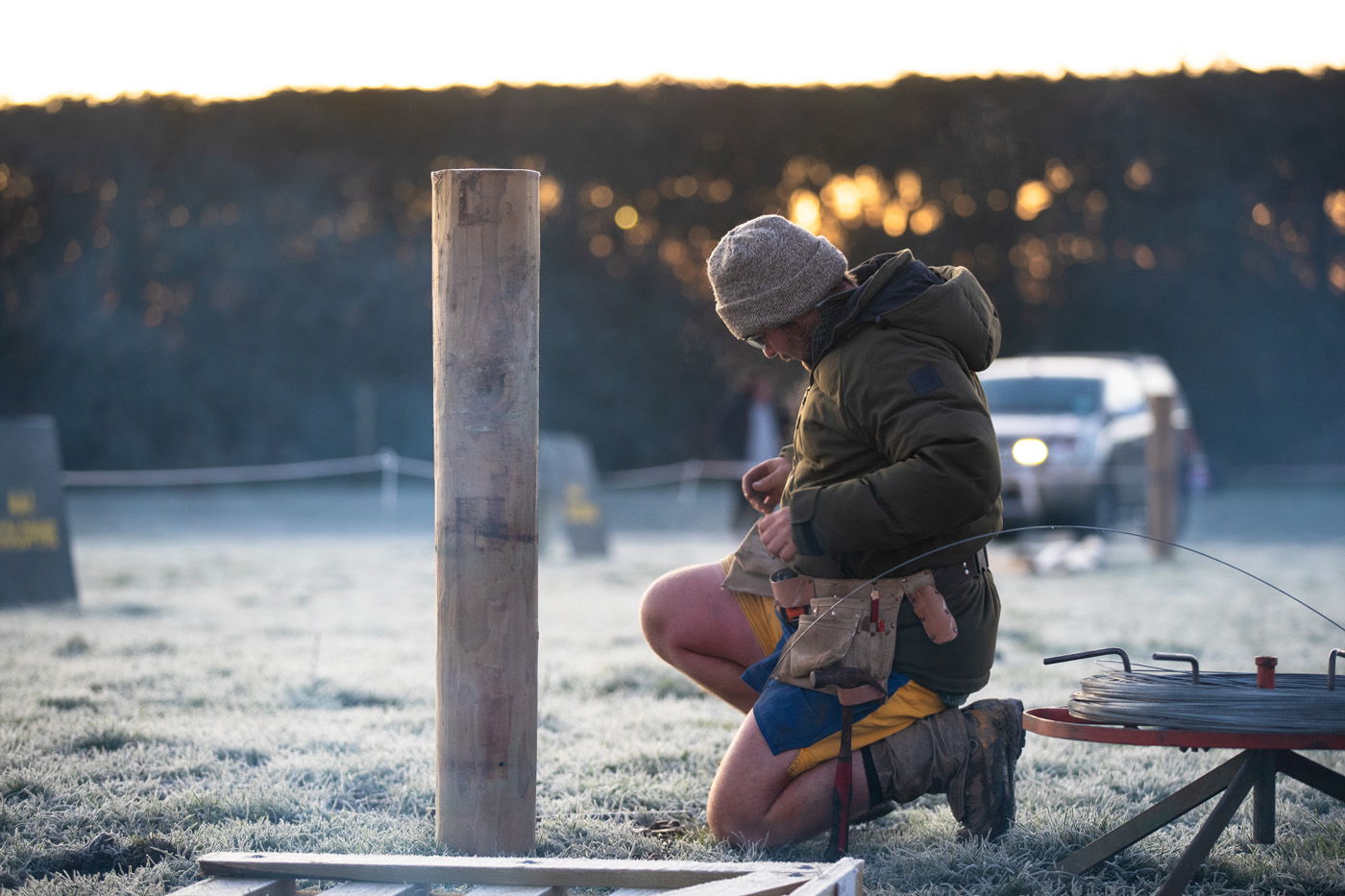 MC for the event, Ross McCulloch said, "It's not just about how long it takes to build it, it's about the quality of the fence; it needs to stand the test of time, keeping stock in and out. It was a cold start to the morning but they ripped into it and the weather turned out great. The job that they've all done is pretty impressive, especially what they've done with only two hours of fencing."
Rous McCulloch is a farmer himself down in Glenavy and helps NZYF out on different projects when he can, including the NZYF podcast, stock judging and MC'ing events. The two judges of the competition were Jamie Wratt and Gary Thomson, who happily worked their way around the seven fences, supporting the competitors and considering various elements which make up a perfect fence – including quality, tidiness and good workmanship.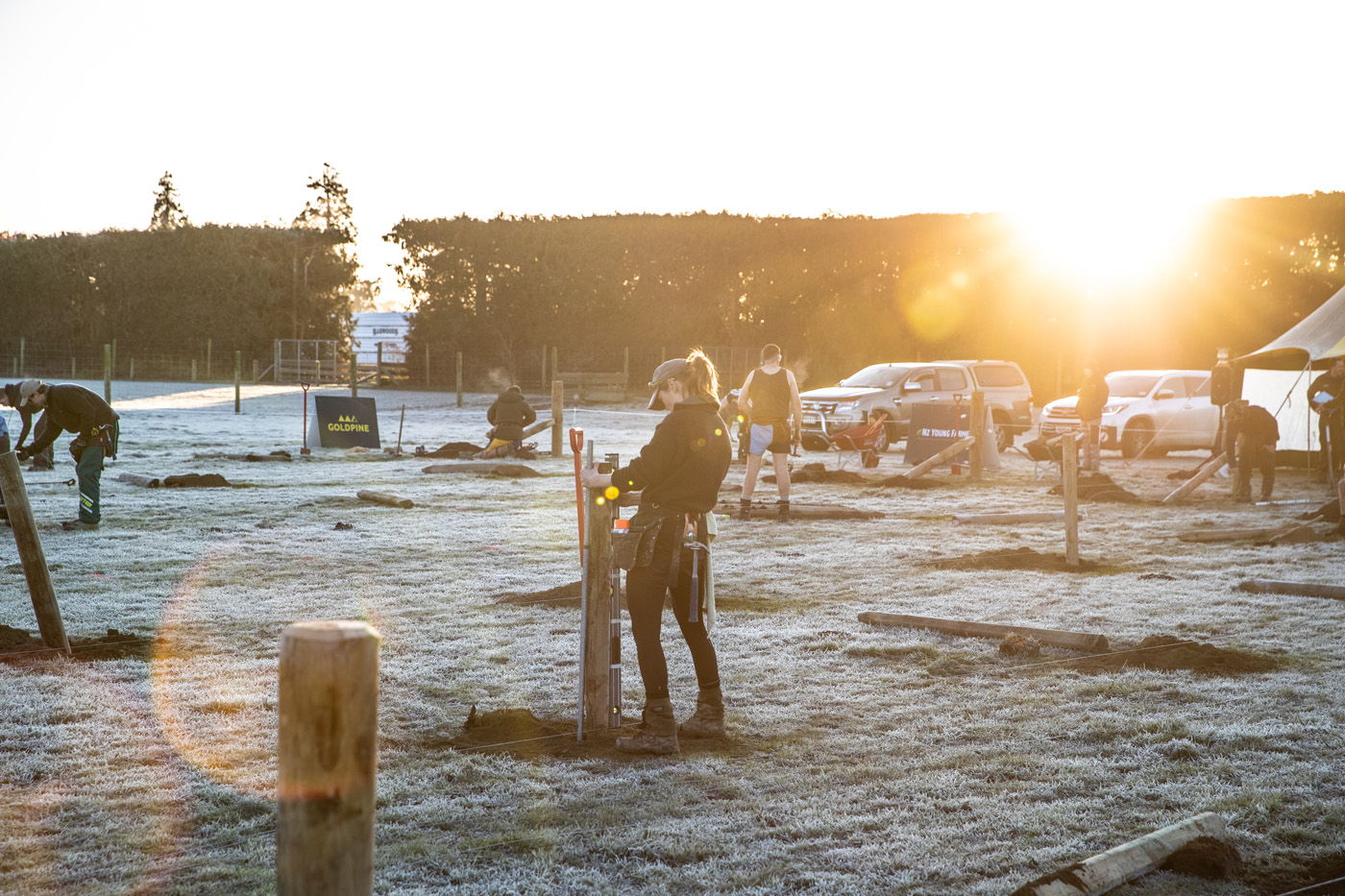 Northern representatives, Caleb Eady and Peter Magon, were first off the line and looked rather confident with their efforts. Being first off the line doesn't always guarantee you first place because it's also about the quality element. The pair showcased that you can have both, as they were awarded second place. "There are a few things that we would have done differently if we were to go again but apart from that, we're pretty happy with it," Caleb said. With Caleb from Whangārei and Peter from Kerikeri, both teammates have done a lot of electric and conventional batten fencing in their time. The South Canterbury region was a lot colder and drier than they are used to, but the soil was nice and soft for them which was a hit. The third-place winners were Quinn Steed and Ryan Craw who represented the East Coast region, making up five Young Farmers' clubs across Eskview, Tikokino, Dannevirke, South Wairarapa and Puketoi.
Dairy farming power couple Zayn and Natalie, who came first, used up all of their allocated time. When teams go over the two-hour mark, they lose a point every 15 minutes. "The time penalties are less than the technical faults. So we weren't too worried about rushing, we were just trying to get things really tidy," Natalie said.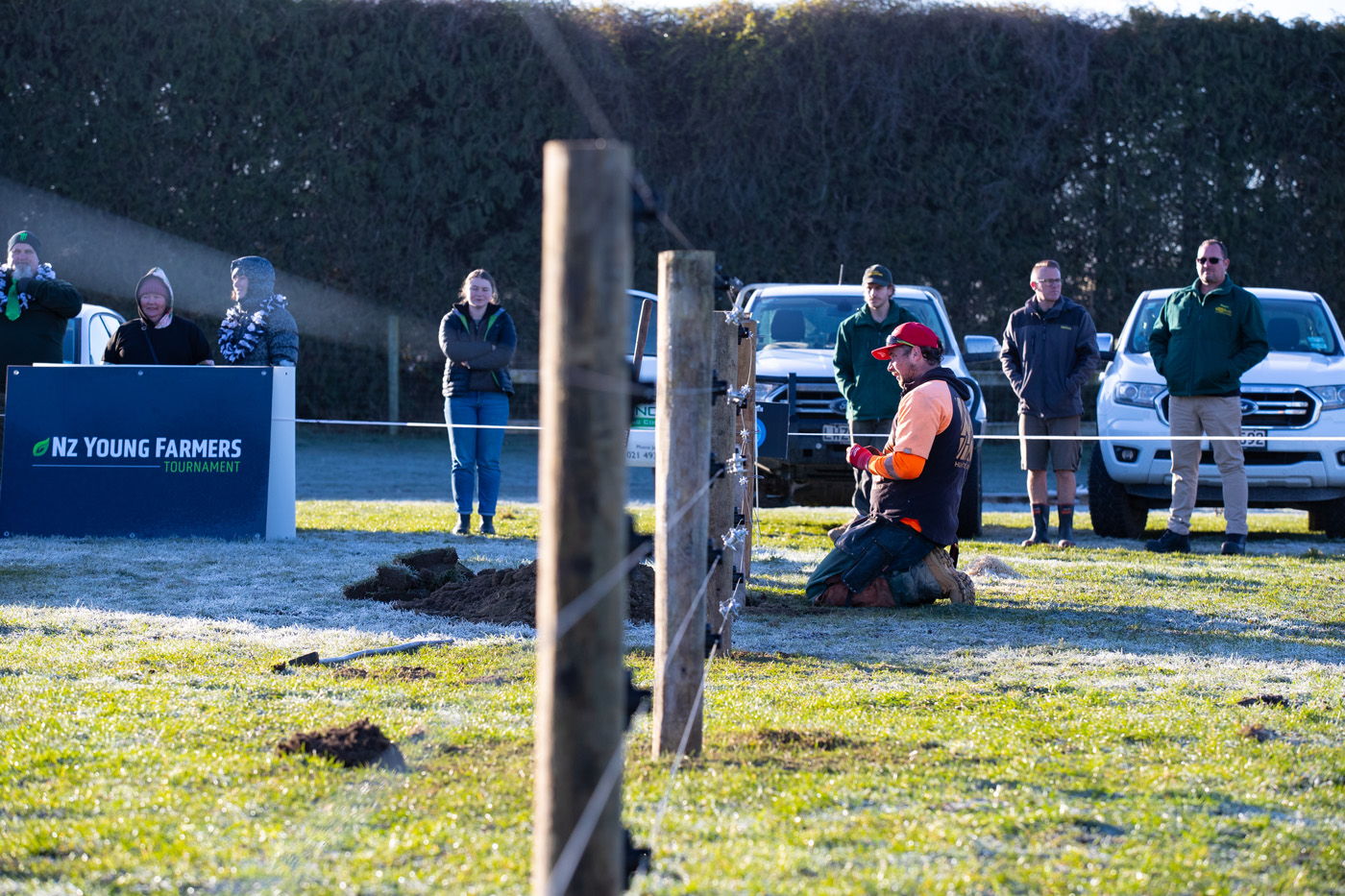 "I felt like we did pretty well. I can see now that we missed a couple of things but, in the moment, you do that," Zayn said. "You usually look at it afterwards and see that you forgot this or forgot that," Natalie added. However, missing a couple of things didn't get in the way of their win.
This was their first time competing at regionals and then they got through to nationals. Outside of being members of NZYF, Zayn is a dairy farm manager and Natalie is studying for her PhD at Massey University, looking at milk digestion and nutrition. The pair are no strangers to putting up fences as Zayn does a bit of fencing work in his current role, and with previous jobs. They've also fenced together, which Natalie mentioned has made a difference when it comes to fencing competitions, as communication is another important element.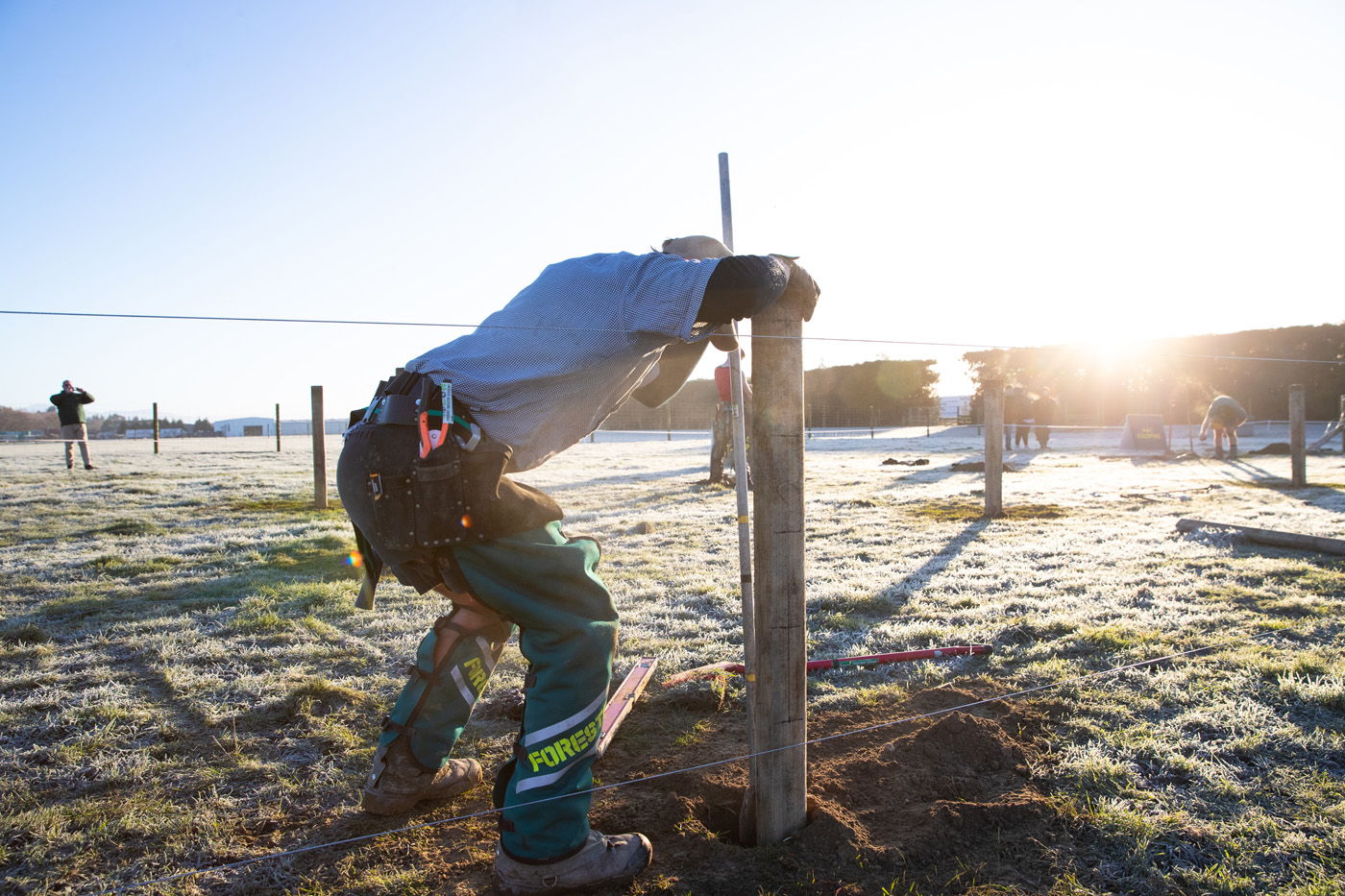 Natalie was the only female competing in the NZYF Goldpine Fencing Competition. "It's interesting and cool, but a little bit intimidating," she said. "I'd love it if there were more women that got involved in this kind of thing because everyone is so nice, but of course, you have to get through regionals." Natalie wasn't the only female that came out with a win from the NZYF competitions that happened in Timaru over the course of three days. Representing the Waikato/Bay of Plenty, Emma Poole was crowned 2023 FMG Young Farmer of the Year, making her the first ever female to accept the award.
Speaking to NZYF, Emma said, "I'm totally overwhelmed, I really wasn't sure where I was going to sit. All the finalists have been so great throughout the competition and these last three days have been really tough so I wouldn't say I was feeling confident, but I knew I'd put in my best effort and that's all you can hope for at the end of the day."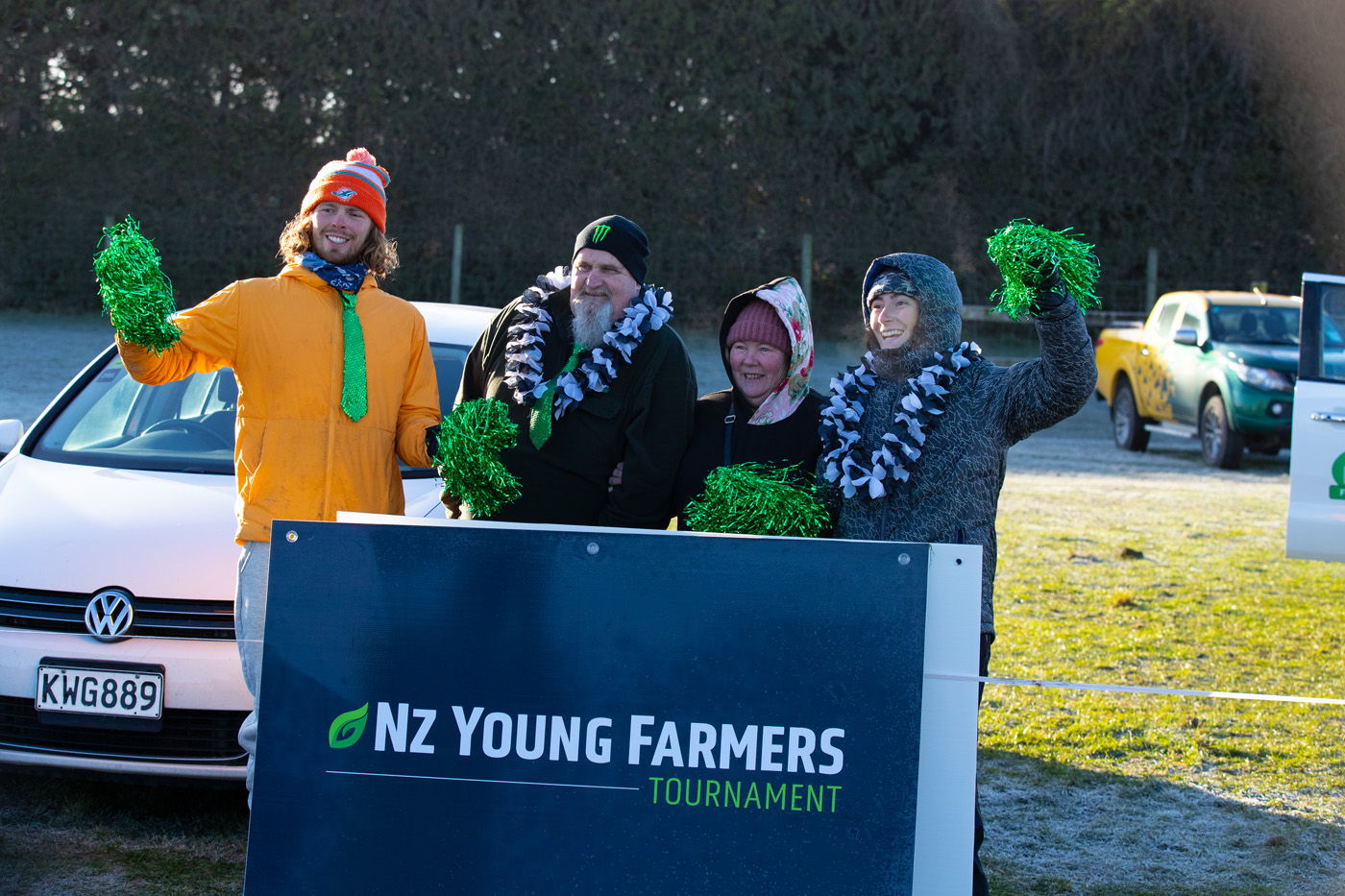 Last season, her brother and mentor, Tim Dangen was awarded the title, so it looks like farming is in their family DNA.
"We've finally knocked the grass ceiling off the roof. There's a long chain of women that have worked really hard to display the important role we play in agriculture. All those women have given me the confidence to stand up and give it a go. I'm just a product of what they've all achieved."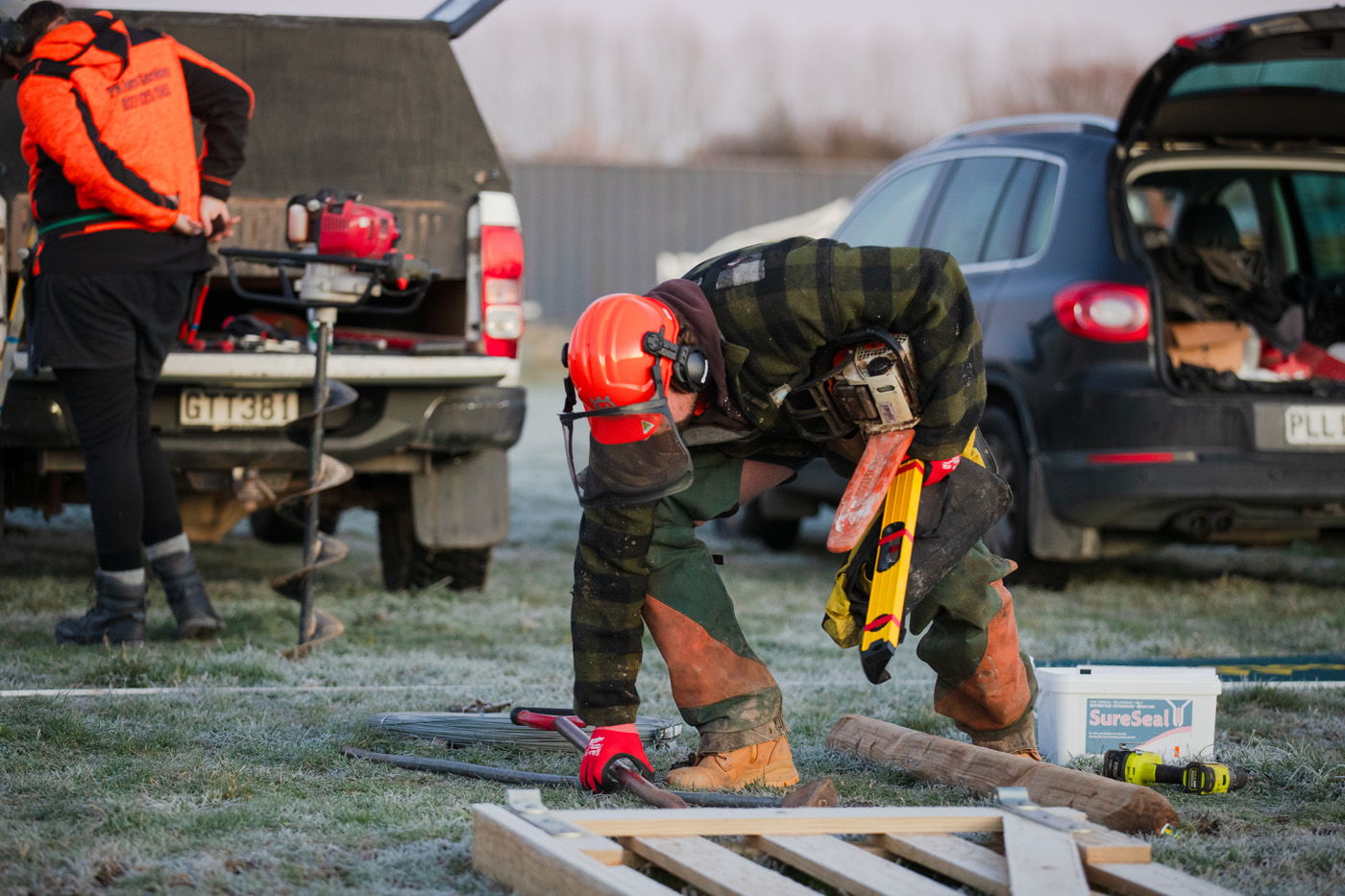 The 2023 FMG Young Farmer of the Year runners-up were Aorangi representative Peter O'Connor who took out second place, and Otago Southland third place winner, Hugh Jackson. There are always great opportunities for young individuals within NZYF, and the relationships that they build with one another are a great source of inspiration, determination and support for the future leaders of our country's agricultural industry.
A massive well done to all of the competitors and winners of the various competitions. We're looking forward to being a part of it all again in 2024.
Date posted: 1 August 2023